Welcome to the inaugural long-form entry of the Layer-2 Report, a summation of Bitcoin's second layer, spanning new innovations and projects to protocol updates and discussions happening within the space.
In this issue, we cover the new Liquid offerings from Specter, Umbrel, and SideSwap, review the latest releases from CLN and LND, detail Coin Corner's new contactless Lightning-powered debit card, and dive into a consequential new research paper from Blockstream.
Tracking Network Capacity
Bitcoin capacity for both the Liquid and Lightning networks has continued to grow year-over-year, increasing ~45% and ~325%, respectively. During the month of May, despite the drawdown in Bitcoin price, each protocol reached a new high for a combined capacity of 7,550 bitcoin.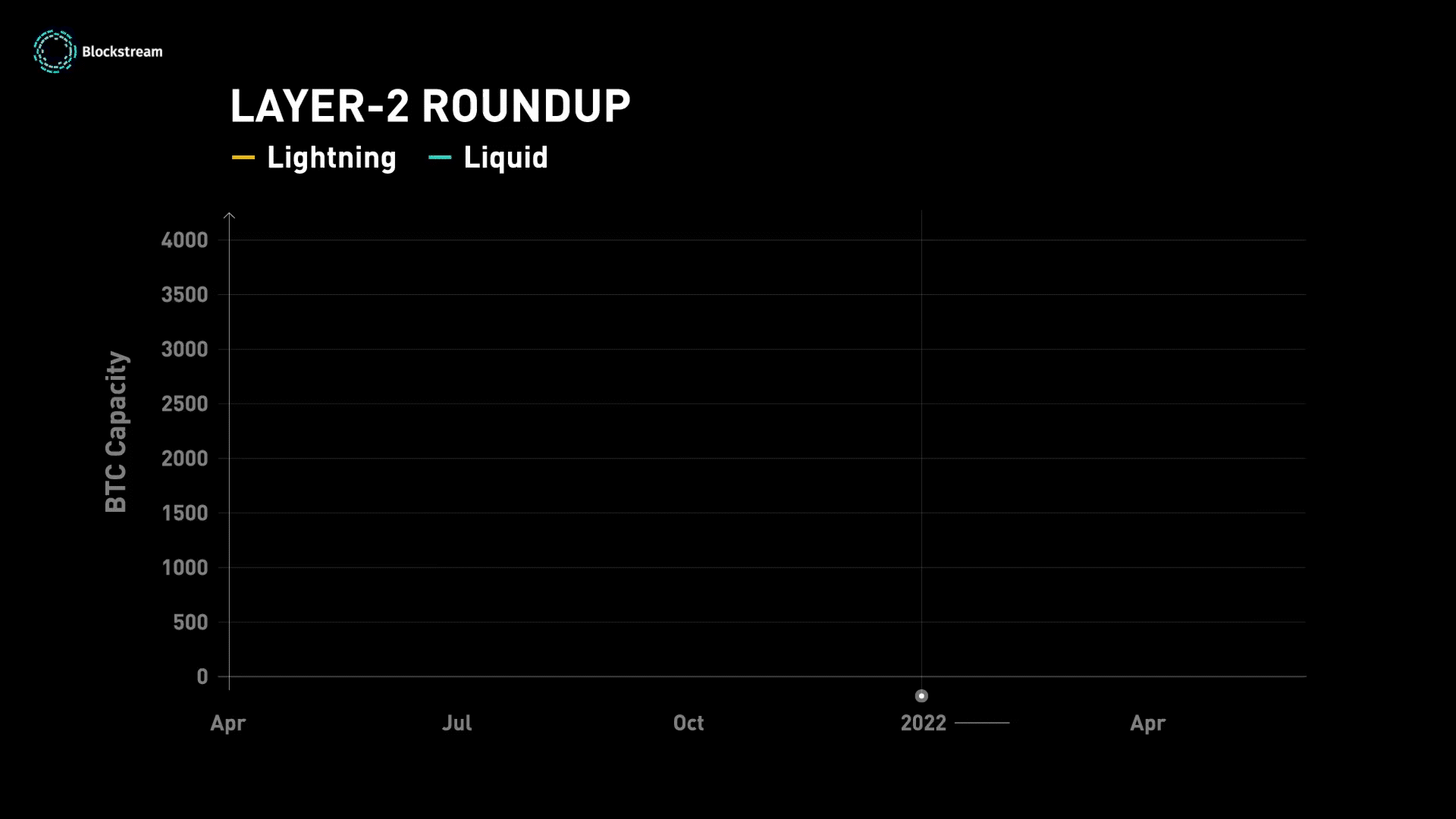 Note capacity data is pulled from the first of each month.
Learn more about how Lightning and Liquid are replacing the legacy banking system by building the payment and financial layers of Bitcoin.
Latest in Lightning Releases
In Lightning news, Core Lightning (CLN) recently released a minor update (v0.11.1), tackling a few outstanding bugs. The main release previously introduced channel multiplexing, a new gRPC API plugin, the newest version of onion messaging, and several performance enhancements. Full details of that release are here.
Over the weekend, lead CLN engineer Rusty Russell shared that another point release (v0.11.2) was in progress and will be released soon.
For users running LND, Lightning Labs released its sixth release candidate last week in the lead-up to v0.15.0, which is set to add Taproot PSBT signing support, MuSig2 experimentation, and a slew of updates to lncli. So far, reports during beta have been very positive, with users reporting a significant reduction in channel database size. Read the release notes here.
Bitcoin-Backed Finance
In Liquid news, there were a series of noteworthy integrations and new offerings in May.
One of the more popular operating systems for node running and management, Umbrel, added Elements Core (a Liquid full node) to its app store. Users can now monitor their Liquid node using Umbrel alongside their Bitcoin Core and Lightning nodes.
A more polished UI and dashboard for the Elements Core app is still desired. Interested frontend developers can join the Liquid Developer Community Telegram or the new Liquid subreddit to discuss more.
Many may ask, why run a Liquid node? By running your own node, you gain access to more network functionality, such as the ability to independently peg-in Liquid Bitcoin (L-BTC), verify L-BTC supply, and issue digital assets.
Follow our advanced Liquid guides on the Blockstream Help Center to learn more.
Additionally, SideSwap, a popular P2P swap platform and marketplace, released its official desktop app, bringing the same easy-to-use simplicity of its mobile client to desktop. SideSwap also announced a new listing to its swap market, the Liquid-based security token EXOeu. Compliant with EU regulations, EXOeu gives investors the right to a 20% profit share for providing capital to the new space MMO game, Infinite Fleet. For more details, be sure to read the full investor report on STOKR.
One of the biggest announcements was from Specter Solutions with the release of v1.10.0 and its new Liquid Issuer extension. For the first time, users can issue Liquid assets on Specter Desktop through an effortless UI, with no command line necessary.
Connect your Bitcoin Core node and Elements Core node to Specter Desktop to begin issuing the full range of Liquid assets available, including standard assets like utility tokens, NFTs, coupon vouchers, or financial assets like stablecoins, security tokens, and others that meet your business' regulatory requirements.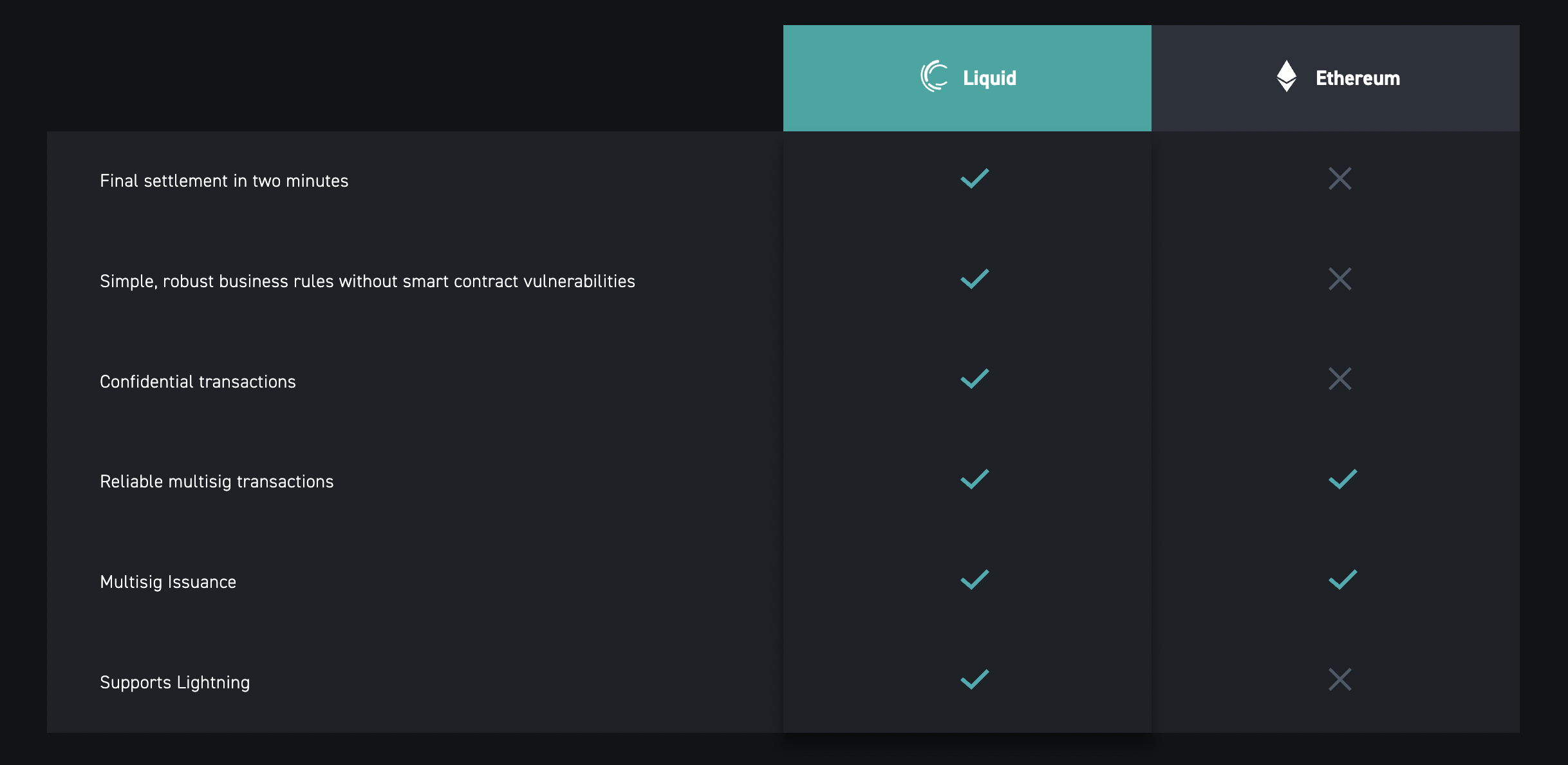 Bitcoin's Bleeding Edge

Elsewhere, Tim Ruffing and Elliott Jin from the Blockstream Research team joined researchers from the University of Erlangen-Nuremberg and the CISPA Helmholtz Center for Information Security to propose ROAST.
ROAST or Robust Asynchronous Schnorr Threshold Signatures are a simple wrapper for Schnorr scheme FROST, which would scale threshold signatures in layer-2 protocols like Liquid (and RSK) that use a federated consensus model.
Liquid functionaries currently operate using an 11-of-15 multisignature wallet setup. ROAST would not only guarantee reliable peg-outs in the presence of disruptive signers with a 67-of-100 setup but also optimize block signing among the functionaries. Note there is no restriction to the number of parties or size of the multisig under ROAST; the aforementioned 67-of-100 setup is simply the largest for which the team measured the performance. Depending on network bandwidth and application, ROAST could handle many more parties.
Read the official whitepaper or peruse the Github repository for further information.
Under the Radar
In an emerging and rapidly growing industry like Bitcoin, it can be challenging to keep up with new projects, let alone wade through all the fluff to find projects with real usability. Here are a few that might have flown under your radar and are worth checking out.
Coin Corner, a Lightning services provider, announced The Bolt Card, a contactless NFC card powered by Lightning.
The Bolt Card lets you connect your own Lightning node to a 'tap and pay' card for a simplified in-person payment experience, with the entire process independent of the legacy payment system. It is available as a debit, gift, or prepaid card and is implementation agnostic as it employs LNURL to grab BOLT11 invoices from any node.
According to Coin Corner CEO Danny Scott, a more robust non-custodial option is in the works, with US availability planned eventually.
Next, in recent weeks, TOR-enabled Lightning P2P platform RoboSats has been making substantial headway among privacy advocates. With no registration required, PGP encrypted communication, and platform liquidity rising exponentially, it is quickly becoming one of the preferred privacy-focused options to buy, sell, and trade bitcoin.
Over the weekend, RoboSats rolled out a new feature for users to make on-the-fly reverse submarine swaps to buy sats directly into their cold storage.
Join the Telegram to ask questions or learn more about how you can contribute to the open-source project.
Follow and Subscribe
Since our first megathread last November, we have followed layer-2 developments closely, highlighting Bitcoin's first sidechain, Liquid, and popular layer-2 solution, Lightning. We are, however, not limited to these two protocols and welcome representatives from other Bitcoin-only layer-2 projects to reach out. You can dm me here, and if applicable, we will be happy to include your project in future posts.
Subscribe below for future issues of the Layer-2 Report, Blockstream Quarterly, and to have all the latest Blockstream announcements delivered directly to your inbox. You can also follow us @Blockstream and the #LAYER2ROUNDUP (now #LAYER2REPORT) hashtag for a Twitter-friendly version of the report.