At Baltic Honeybadger 2022, we announced XDEX Finance, a decentralized security token exchange and peer-to-peer marketplace built on the open-source TDEX protocol and Bitcoin layer-2 solution, the Liquid Network.
As a foundational partner alongside Bitcoin infrastructure firm Sevenlabs - acting as the technology partner of Swiss-based Equitas Foundation - and fintech company Poseidon, we consider XDEX the next stage in the current reformation and disintermediation of capital markets, which has been made possible by Bitcoin.
Today, users can visit the XDEX website and sign up to receive development updates. The mobile app is set for release on Android and iOS in 2023, and a web-based version of the platform is planned to go live at a later date. Meanwhile, interested users can join the new XDEX Telegram to ask questions, learn more about platform functionality, and discuss markets.
The Bitcoin Full-Stack Approach
The Blockstream Asset Management Platform (AMP), combined with TDEX's trustless liquidity provider (LP) protocol and the Liquid Network's asset issuance capability, confidentiality, and speed, create a workable blueprint of full-stack Bitcoin technology to form the world's first fully decentralized STO exchange.
Together, these three components enable trustless P2P exchange between buyer and seller without an intermediary, allowing users to maintain full custody of their assets through the entire trading process.
With XDEX, investors gain exposure to the growing number of security tokens, stablecoins, and other digital assets issued on Liquid. At launch, investors will be able to trade the Blockstream Mining Note (BMN) and the Infinite Fleet equity token (EXO), BTC, and L-BTC, as well as various US dollar, Euro, and Swiss Franc stablecoins. The Equitas Foundation will also offer the payment token EQUI, a decentralized alternative to stablecoins in the form of EURQ, CHFQ, and other denominations, helping to bridge Bitcoin and conventional finance.
As a decentralized exchange, investors using XDEX can expect many asset types on the platform from a diverse set of issuers, as asset availability is open and ultimately determined by a liquidity provider's willingness to offer and propose pairs to swap.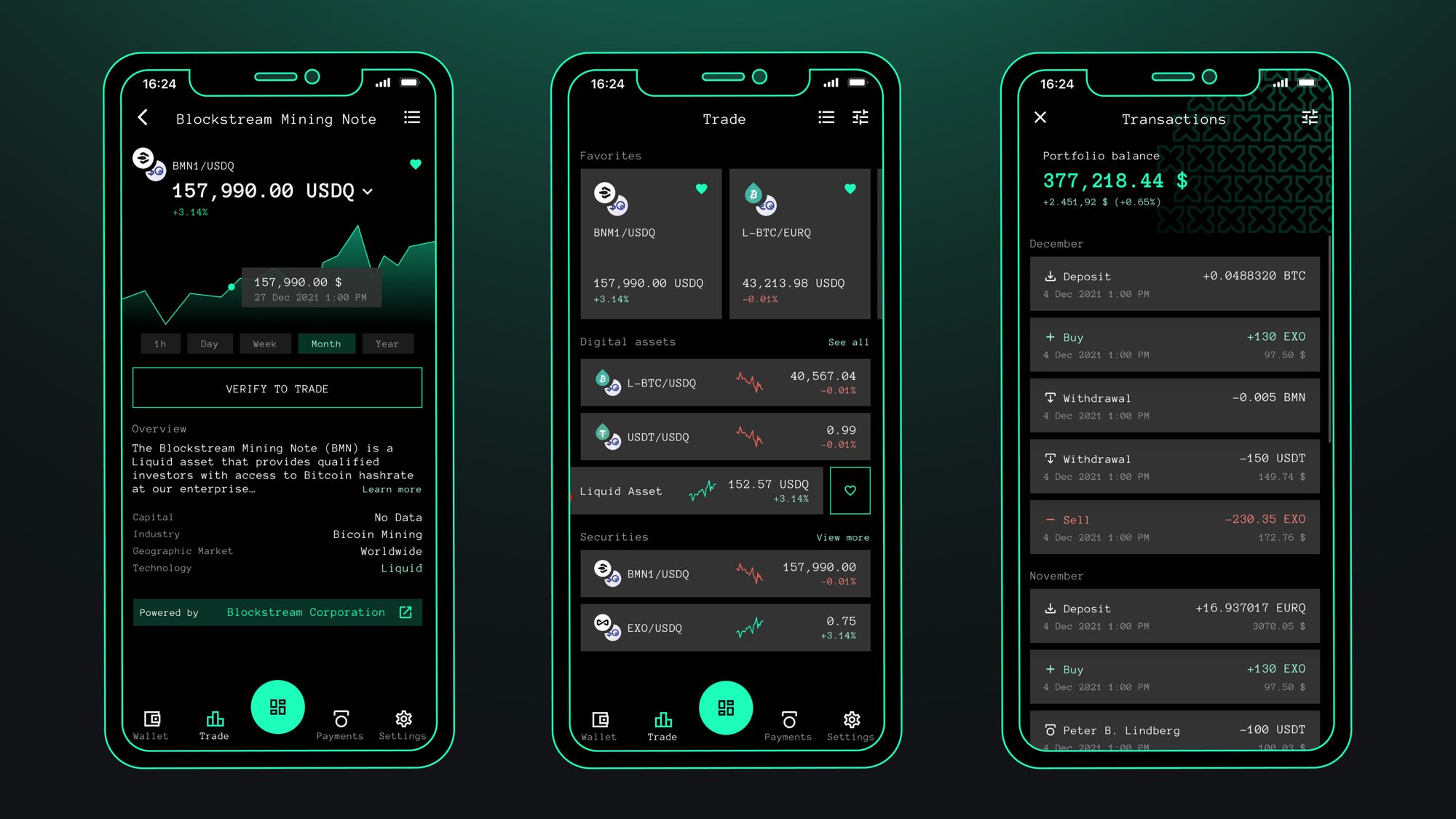 Finance Evolved
XDEX will also pursue a new fintech license covering security token exchanges from the Swiss Financial Market Supervisory Authority (FINMA). The new license would formalize a regulatory framework and, in tandem with the integration of Blockstream AMP, lower the barrier of entry for primary issuances on the platform.
Integrating AMP on XDEX allows users to issue security tokens and list them all in one platform seamlessly, giving issuers unprecedented simplicity and helping pave the way for more trading venues integrating Liquid and building Bitcoin's financial layer.
XDEX is just one of many companies that have integrated AMP recently, including swap app SideSwap, technology platform DIGTL, STO marketplace STOKR, and gaming company Pixelmatic. If you are interested in learning more about Blockstream AMP and the new Asset Issuer tool, which simplifies the issuance process for security tokens, stablecoins, and other digital assets, please reach out to our team here.
1/ We're excited to announce our 💎 Asset Issuer platform for @Liquid_BTC. Use the intuitive web UI to issue assets in minutes, without any smart contract programming.

💻 Issue an asset
🖼️ Upload & register your icon
☑️ Perform proof of issuance

👇https://t.co/BCFNQ2e1vD

— Blockstream (@Blockstream) August 2, 2022
Stay Up To Date
We look forward to providing technology support for XDEX's Liquid and Blockstream AMP integrations, and working closely with Sevenlabs and Poseidon to bring XDEX to market in the coming months.
To stay informed on the latest app updates and announcements, follow XDEX on Twitter, join the new Telegram, and sign up for the newsletter on the website to receive a notification when the app goes live.
For the latest Blockstream announcements delivered directly to your inbox, subscribe below.