The wait is over. Thanks to your valuable feedback, we are confident the latest release of Green is the best version yet and are excited to share the newly redesigned wallet now available for mobile users (with a desktop version in development). The new UX gives users a more refined experience based on their particular self-custody need, along with a sleeker, more intuitive interface.
We recognize both the learning curve self-custody presents to the everyday Bitcoin HODLer and the need for advanced security solutions for more experienced users. With the new Blockstream Green mobile app, we addressed this challenge by providing a simple, safe user flow for beginners while educating them on the basics of self-custody, as well as an all-new flexible interface for advanced users who seek a higher degree of control and greater functionality, including singlesig, multisig with two-factor authentication (2FA), and hardware wallet integration, and soon with more options like payments on the Lightning Network and separate cold storage watch-only wallets.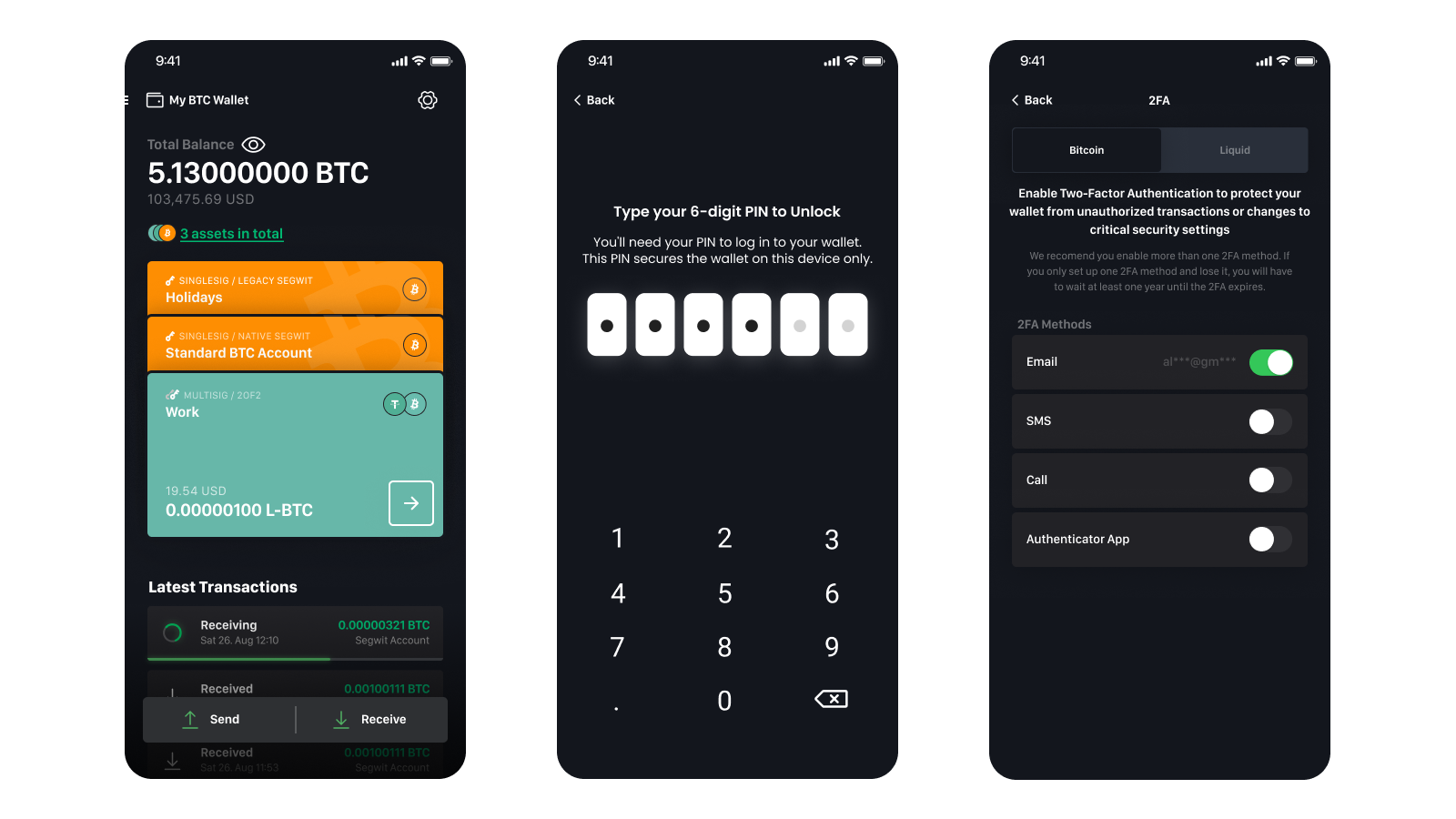 An All-In-One Hybrid

One of the many ways Bitcoin revolutionizes money is by removing counterparty risk by enabling individuals to take custody (ownership) of their funds with a wallet. Self-custody gives you, and only you, full control of your money.

Your self-custody setup should evolve and become more robust over time, especially as your bitcoin stack begins to grow. What is safe for 500,000 sats is not necessarily the same for 0.05 BTC or 5 BTC. Simplifying accessibility to different security models makes it easier for both new users and long-time Bitcoiners to find the solution appropriate for their situation.
Under the new Blockstream Green UX, a user's journey starts with the generation of a single recovery phrase via singlesig wallet setup. Users can then choose to increase the level of security by protecting their funds with a main key for quick on-chain spending or by adding an extra layer of protection through two-factor authentication (2FA). The six-digit 2FA code, delivered via an authenticator app, email, SMS, or call, is required for each new outgoing transaction. This ensures that even if the primary recovery phrase falls into the wrong hands, the funds can only be moved with the 2FA authorization.
For users who are particularly concerned about the security of their setup, there is an option to take the keys offline completely. This is especially useful for those who only need to spend their funds sparingly. By taking the signer offline, users can use a hardware device like the Blockstream Jade, Ledger, or Trezor as their primary key, adding an extra layer of security to their setup. Advanced users can also mix and match different security features to protect against a variety of threat models, including BIP39 passphrases.
More on Green's Design Philosophy

The Blockstream Green wallet is composed of several core services, the signer and the validator most importantly, which are fundamental in understanding self-custody and why Bitcoin is valuable as uncensorable money.
The signer is the beating heart of the wallet and is responsible for the secure management of funds. By default, the keys on the Green app are highly secure, with the PIN unlock feature working as a blind oracle. Furthermore, users can increase their security level by storing and operating their keys offline with a dedicated device such as the Blockstream Jade.
The validation service acts as the brain of the wallet, checking that transactions are genuine. The Bitcoin blockchain validation service, which can be linked with various node-in-a-box solutions like Umbrel and Raspiblitz, monitors the legitimacy of the funds received. If this service is operated on a private node, in parallel, or in addition to the default block explorer service, users are provided with a higher degree of assurance that the incoming transactions they see in their wallet respect Bitcoin's protocol rules, and no middlemen are cheating them. Remember, don't trust, verify.
We also prioritize privacy by default in Green, with user metadata, such as transaction notes and wallet preferences, cross-synced across platforms (e.g., iOS, Android, desktop) by a blind, encrypted service and without any KYC requirements. For further privacy, Green's 2FA option allows for time-based-one-time-passwords (TOTP) with an authenticator app of your choice, thus maintaining the highest degree of privacy and 2FA security.  Additionally, Green has a built-in Tor service, or users can alternately connect with a proxy (via VPN) when accessing the wallet.
Other Features Coming Soon
The new wallet design is only the start of many more exciting updates and features coming soon to Blockstream Green. As hyperbitcoinization continues to intensify, Lightning is becoming the preferred option for fast, cheap bitcoin payments around the world. By integrating our on-demand node service, Greenlight, Blockstream Green will simplify the process of bringing Lightning functionality to its users while also allowing them to maintain self-custody of their funds. Once Greenlight is integrated, Blockstream Green will be the first wallet in the market to enable payments across the Bitcoin mainchain and its major layer-2 solutions, Liquid and Lightning.
We also plan to introduce watch-only wallets that can be paired with even more hardware devices (e.g., ColdCard, Bitbox, Seedsigner, and Passport) to help users better track daily spending habits with a greater degree of security.
Try Green Today

You can experience the all-new Green wallet by visiting the official Blockstream Geen page and downloading the mobile app from your preferred operating system. Users can also download the app directly on the App Store, Google Play, or F-Droid.
To gain priority access to new Green features before they are officially released, such as a self-custodied Lightning wallet and more hardware wallet functionality, join Green's new beta program. The program is a great opportunity to give us direct feedback and improve your go-to wallet solution first-hand.

For further support and to discuss other features in Green, you can also join the official Green Community Telegram or subscribe to the Blockstream YouTube channel, where we frequently upload tutorials that cover topics like coin control and self-custody in Green wallet.
Finally, if you are interested in learning about Green and its layer-2 capabilities, sign up to the Build On L2 community. There, you can talk with developers or attend educational workshops on Lightning and Liquid to learn how to leverage Bitcoin layer-2 into your stack.
---