The Liquid Network received a major boost to its ecosystem today with the launch of Tether (USDt) on Liquid. The Liquid sidechain represents a major upgrade over Tether's original platform, the Omni Layer, offering faster settlements, Confidential Transactions, and sophisticated multisig security. In addition to the launch, Liquid USDt is now available for deposit and withdrawal at Bitfinex, with more venues opening soon.
A Key Part of the Exchange Industry
Since launching in 2014, Tether has become by far the largest stablecoin in the industry and is relied on by traders globally to improve the efficiency of their trading activities. At the time of writing, Tether has achieved over four billion dollars in market cap and represents a whopping 20 billion dollars in daily trading volume.
In addition to Bitfinex, a number of other Liquid members are working on enabling Liquid USDt, including BTSE, BTCTrader/BtcTurk, OKEx, OKCoin, RenrenBit, and Sideshift AI. Liquid USDt can be easily added to existing Liquid Bitcoin (L-BTC) integrations, and even more support for Tether on Liquid is expected later in the year.
Atomic Swaps for Enhanced OTC
Tether's launch on Liquid coincides nicely with the recent surge of interest in the Liquid Swap Tool. The Liquid Swap Tool is an open source application that allows traders to execute atomic swaps with their counterparties, exchanging any Liquid-based asset for another.
Now with Liquid USDt, OTC desks and even individual traders can complete near-instant BTC-USD swaps without relying on mutual trust or third parties such as an escrow service. Using Liquid in this way will significantly expand the number of potential counterparties available to OTC Bitcoin traders, as they will no longer have to worry about the risks of non-delivery.
One Wallet To Rule Them All
Taking custody of your Liquid USDt couldn't be easier thanks to the Issued Asset support recently launched on Blockstream Green. Traders can keep their Liquid USDt on their own wallet during downtime, and just move funds to an exchange when actively trading.
Users of Liquid USDt on Green have access to all the same great features available for L-BTC, including 2FA-protected multisig and transaction priority controls, with hardware wallet support coming soon.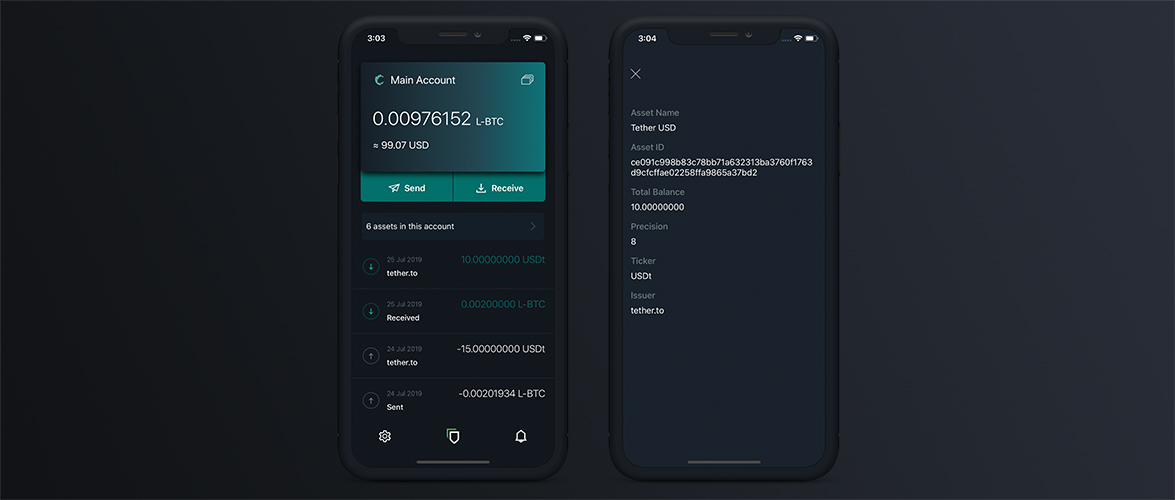 Some Things to Look Forward To
Having Tether on Liquid presents a number of new possibilities that will become reality over the coming months:
"Completing the loop": Once USDt is opened for deposits on more exchanges, arbitrage traders will be able to take advantage of Liquid's 1-minute block times to rapidly complete inter-exchange transfers of fiat.
Enhanced securities trading: With the launch of the Liquid Securities platform on the horizon, USDt will provide a more familiar asset for traditional traders to trade their securities against.
Instant, low-cost stablecoin payments: Following the launch of Lightning support for L-BTC, Lightning support for other Liquid assets, such as USDt, is right around the corner, making instant, low-cost stablecoin payments possible for the first time.
Get Started
Users can head to Bitfinex to purchase Liquid USDt, and a guide for completing a Bitcoin-Tether atomic swap is available in Blockstream's official documentation.
If you represent an exchange that already supports USDt on Omni or other networks and are interested in adding USDt for your customers, please contact our team for integration support.