The Liquid Network is now accessible from an easy to use mobile app thanks to the addition of a Liquid option on Blockstream Green. Supported across both iOS and Android (and coming to desktop soon), Blockstream Green users can now store, send, and receive Liquid Bitcoin and Issued Assets on the Liquid sidechain.
Faster, More Private Bitcoin Transactions
Bitcoin transactions typically require multiple confirmations before they can be considered secure. Waiting for multiple confirmations not only takes a long time, but you can never really be sure when they'll come through due to the inherent randomness of the proof of work process. Liquid is optimized for exchange traders, and with the new Liquid option on Blockstream Green, bitcoin moved to the network (known as Liquid Bitcoin, or L-BTC) can be securely settled within a reliable two minutes.
L-BTC transactions on Liquid also benefit from the latest Confidential Transaction technology, which ensures that key details of transactions are hidden by default. Third parties inspecting a transaction with a block explorer (e.g. Blockstream Explorer) will be able to see the addresses the transaction was sent from and to, but not how much was sent, or even what was sent (the Liquid sidechain supports other assets in addition to Bitcoin).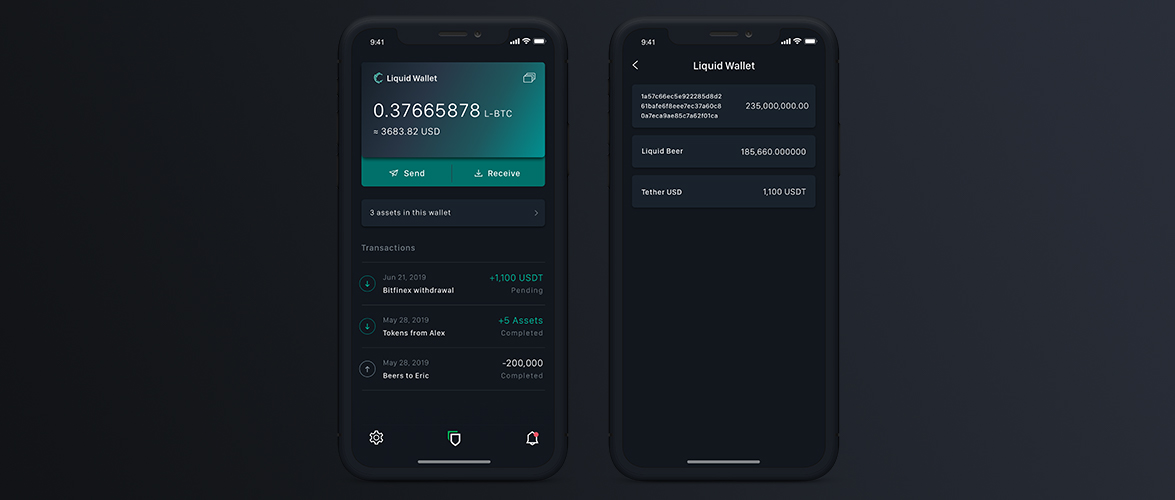 Issued Assets
In addition to L-BTC, Blockstream Green also supports Issued Assets. Users of tokenized assets like tokenized fiat (stablecoins) and securities can use Blockstream Green to take full custody of their tokens and transact with other Liquid users peer-to-peer.
While Blockstream Green supports all Issued Assets, for them to display with human-readable names in the app the asset needs to registered on Blockstream's Asset Registry.
2-of-2 Multisig
Like with Blockstream Green's Bitcoin wallet feature, all assets on Liquid are protected by Blockstream Green's unique multisig security model. Additional hardware wallet support will also be coming soon for those looking for extreme digital asset security!
Testing the New Liquid Features
To get started you'll first need to download the Blockstream Green wallet–if you haven't done that yet, head to your device's app store and download it now!
L-BTC
To send L-BTC transactions, you'll need to acquire some L-BTC. There are multiple ways of getting hold of L-BTC, but we've made a couple of guides available, and will be adding more guides for other methods soon:
Once you've got hold of some L-BTC, you'll need to connect to the Liquid Network and create a Liquid wallet in Blockstream Green:
Finally, send your L-BTC to your Blockstream Green Liquid wallet address, as you would with any Bitcoin transfer. The L-BTC should arrive within two minutes. Congratulations, you're now on Liquid Network! If you get a friend to set up a Blockstream Green Liquid wallet, you can also try sending them a few Liquid satoshis.
Note: To swap L-BTC back to BTC, use Sideshift (early access), swap with a friend, or peg-out with a participating Liquid member exchange.
Issued Assets
It's early days for Issued Assets on Liquid, but there are many projects arriving soon, such as Liquid-based tokenized fiat, and security tokens via Liquid Securities (launching later this year). For users interested in playing with the Issued Asset feature, you can head to pick up some beer tokens at liquid.beer. Or, for more advanced users, try issuing your own asset.
Open Source? You Got It!
While we're very excited about the future of Blockstream Green, we want as many people to benefit from its features as possible. As usual, all the latest Liquid features on Green have also been added to the Green Development Kit (GDK) and libwally. Thanks to these open source repositories, Bitcoin wallet developers have all the tools necessary to quickly add Liquid integrations into their own wallet apps.
Feedback
We want to make Blockstream Green the best that it can be. If you have any feedback or suggestions, let us know via email support@blockstream.com, and for bug reports and other issues you can ping us on our new support Twitter account @BlockstreamHelp.