We're very excited to see the launch of Bitfinex Securities Ltd, a new security token (STO) exchange. The Blockstream Mining Note (BMN) will also be one of the first assets listed on this new platform.
Investors will also be able to trade at a lower denomination on the Bitfinex Securities platform, ensuring a more precise price discovery process.
The Blockstream Mining Note
The BMN provides qualifying investors exposure to Bitcoin mining through a security token issued on the Liquid Network. Each BMN entitles investors to up to 2,000 TH/s of bitcoin mined at our enterprise-grade mining facilities.
Since the launch of the first BMN tranche on April 7, 2021, the BMN has raised a total of €6.6M ($7.8M) with just over 33 BMN issued to a diverse range of corporate and individual investors across Europe, Asia, North America, and the Middle East.
In the 60 days since mining began, each BMN has produced more than 1 BTC.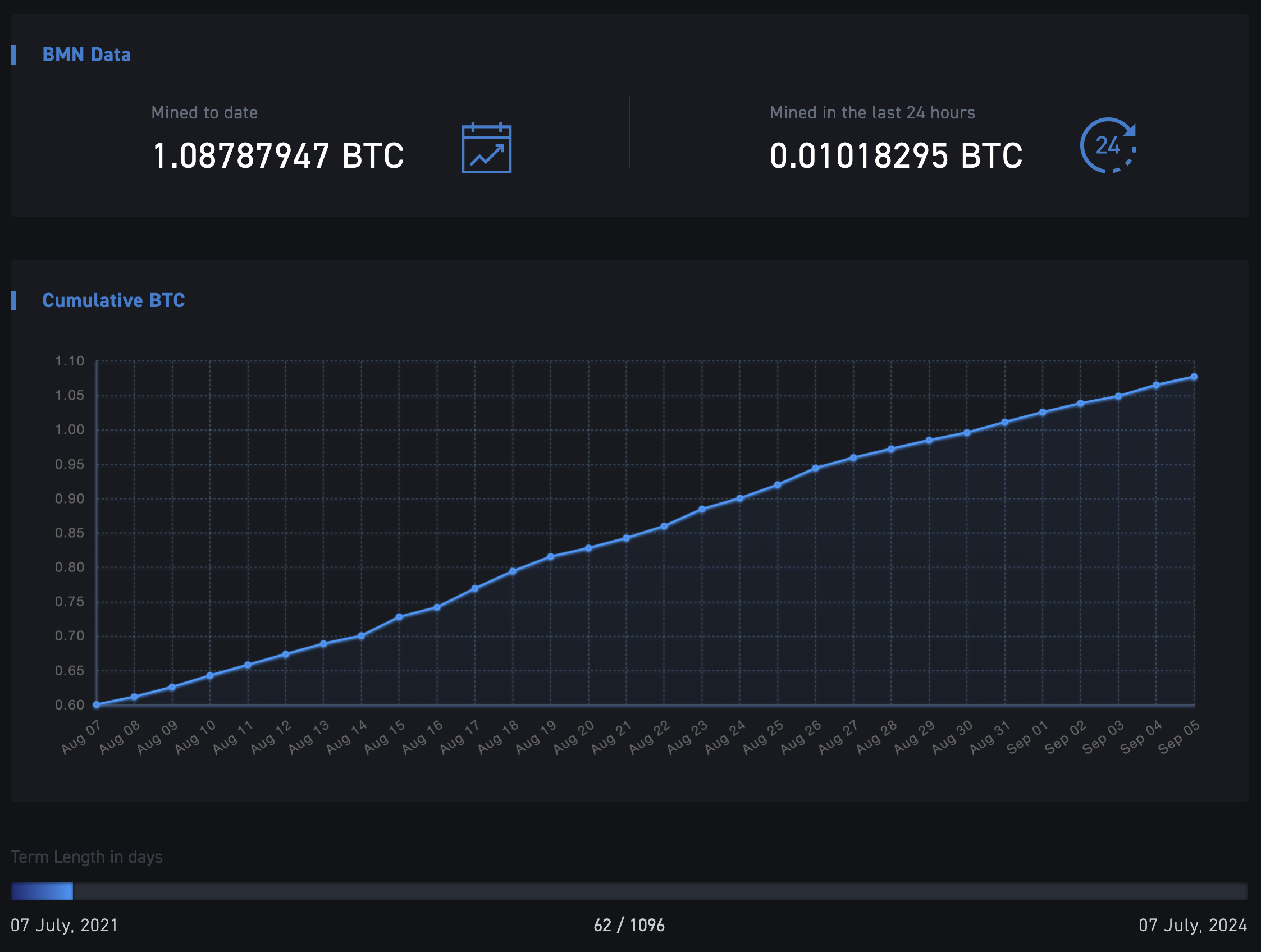 A Lower Entry Point and More Precise Price Discovery for Investors
We believe all hodlers of Bitcoin, from retail traders to institutional investors, should be active participants in the proof-of-work consensus algorithm to support the decentralization of Bitcoin's network.
One of our main areas of focus since the launch of the BMN has been to lower the minimum ticket size to increase investor participation. By removing additional barriers for investors, we can further strengthen Bitcoin's security and censorship resistance. A win-win for both investors and the overall network.
Greater Liquidity for the Bitcoin Mining Industry
One of the key value propositions of the BMN is bringing liquidity to the historically illiquid Bitcoin mining industry.
The greater liquidity on the Bitfinex Securities platform allows investors to scale their overall exposure to Bitcoin mining more quickly and efficiently than ever before. Not only a significant step in the efforts to further decentr​​alize global hashrate but crucial to attracting large, mainstream institutional investors keen to build exposure in the growing Bitcoin mining space.
​​As a tradable security, the BMN provides market liquidity typically absent from a traditional investment in physical mining infrastructure. Investors can more easily adjust their exposure by trading their tokens with other qualifying investors on the secondary market.
Not Your Keys, Not Your BMN
We are also excited to share that investors will now be able to self custody their BMN. By taking complete command of their keys, investors have more risk management controls and opportunities for liquidity than before.
Once completing the registration process on STOKR, BMN holders can transfer their tokens off-platform to Liquid wallets that support Blockstream AMP, including Blockstream Green and hardware wallet Blockstream Jade.
When sending BMN to the Bitfinex Securities platform to trade or performing over-the-counter (OTC) transfers with a qualified peer, settlements finalize within two minutes, and Confidential Transactions are standard.
Visit Bitfinex Securities Ltd
Keep an eye on Bitfinex Securities Ltd for updates on when the BMN will be available. While you wait, you can also join the official Blockstream Finance Telegram to engage in OTC trades and talk with Dr. Adam Back and Jesse Knutson about the future of finance at Blockstream.