Blockstream Monthly is a newsletter helping you stay up-to-date on the most cutting-edge Bitcoin development and announcements from Blockstream.
The BMN provides qualified investors access to Bitcoin hashrate at Blockstream's enterprise-grade mining facilities. At the time of publication, one BMN1 token has earned ~5.3 BTC nearly halfway into a three-year term. More analysis below.
The latest release of Elements brings its codebase up to date with Bitcoin Core v22.0, adds new features, fixes bugs, and improves performance.
New advanced smart contracts were added to Liquid, enabling non-custodial limit orders and options contracts. Reference implementation coming soon.
With the latest firmware release, Jade's camera has been activated for a fully air-gapped workflow when signing Bitcoin transactions.
Blockstream has collaborated with renowned Bitcoin artist, NoGood to create a unique art series celebrating the world of Sovereign Electronics. Now available on the Blockstream Store.
BMN Update
The Blockstream Mining Note (BMN) provides qualified non-US investors access to Bitcoin hashrate at Blockstream's enterprise-grade mining facilities. At the time of publication, one BMN1 token has earned ~5.3 BTC nearly halfway into a three-year term. To trade the BMN, see a complete list of exchanges here, with full terms and conditions on STOKR.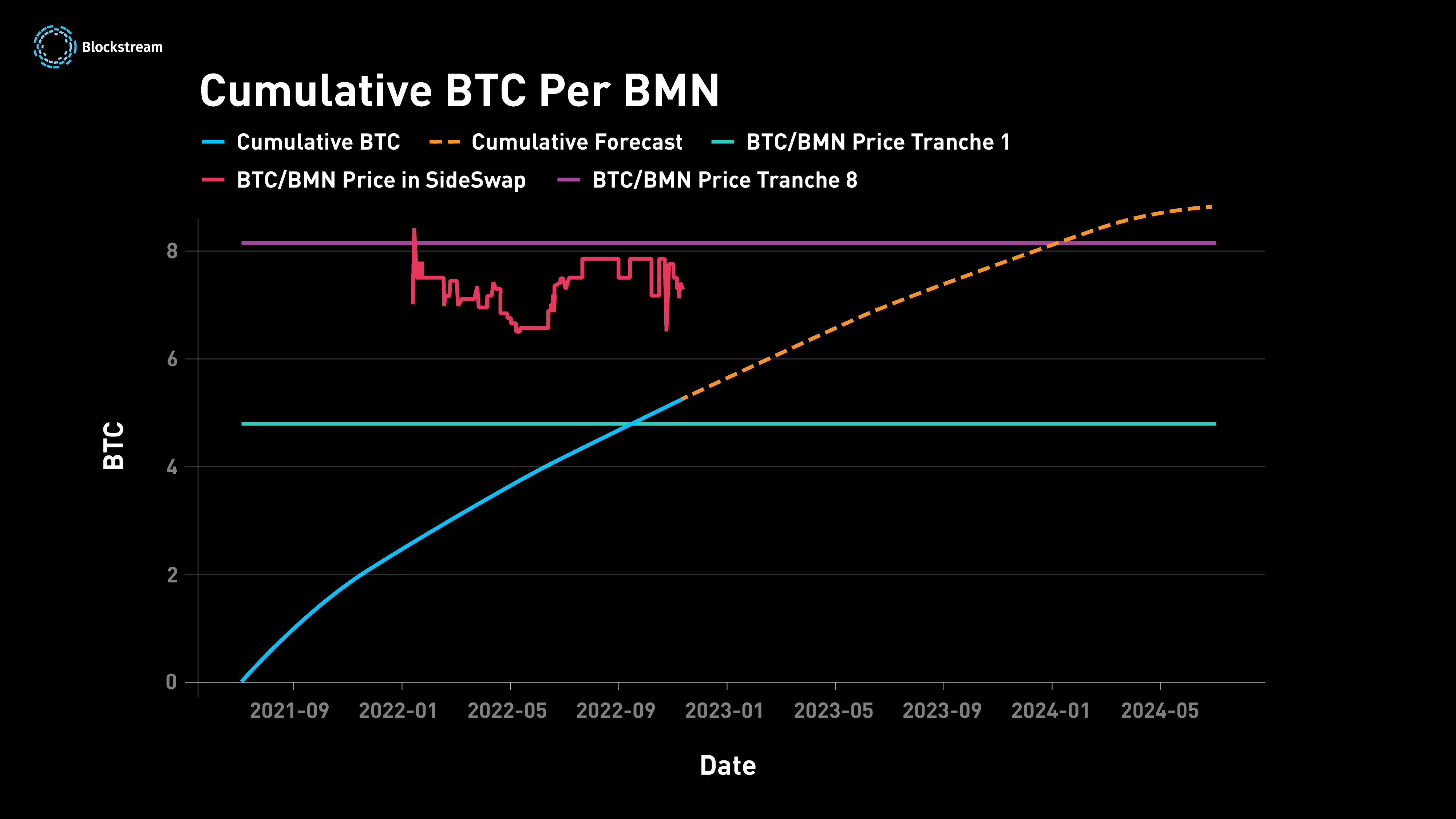 Adolfo Contreras: "Assuming a hash rate increase in the network of 40% annually, we can see the number of bitcoin generated has already surpassed the cost of tranche one, and, at this rate, will exceed the selling price of the most expensive tranche (tranche 8) somewhere in the late months of 2023 or early 2024, around 9 BTC. The current listing price on SideSwap (7.3 BTC per BMN) would return close to 9 BTC in the remaining 19 months, an 11% yearly average in BTC terms."

BMN Help Center
Finance Telegram
Elements v22.0.2
Among the biggest improvements to Elements was its PSET (Partially-Signed Elements Transactions), an extension of Bitcoin's PSBT2 that allows wallets to collaboratively blind and sign Confidential Transactions. Elements v22.0.2 updates the PSET spec with multiple fixes to the implementation, a new parsepsbtRPC for testing, and now allows the user to specify in PSET whether issuances should be blinded or not.
Deploying Financial Products on Liquid
Liquid added an upgrade for scripting with 31 additional opcodes focused on simplifying and improving covenants: transaction introspection, 64-bit arithmetic, and more. With these opcodes, Liquid can deploy advanced smart contracts that offer financial products to traders seeking to reduce the trust requirements commonly encountered in the traditional finance world.

Two examples of these financial products are non-custodial limit orders with partial fills and fully-collateralized options contracts. Blockstream has designed and implemented smart contracts to demonstrate these use cases, illustrating Liquid's ability to serve as Bitcoin's financial layer.
Blockstream Jade: Air-Gapped Transactions Using QR Scan

Since its launch, Blockstream Jade has excited users with its unique combination of security, standards-based interoperability, and affordability. The camera, however, has laid dormant...until now.

The QR Scan upgrade in 0.1.41 also brings BlueWallet and Nunchuk compatibility to Jade, increasing optionality when transacting using mobile devices. These two newcomers join Sparrow and Specter as the other PSBT-compatible platforms - with more on the way.
Blog Post
Quickstart Guide
Jade Telegram
NoGood Collaboration on the Blockstream Store

Blockstream has partnered with renowned Bitcoin artist NoGood to create a unique art series (stickers, posters, and tees) celebrating the hyperbitcoinized world of Sovereign Electronics. Receive 15% off when using a voucher token available on the SideSwap market.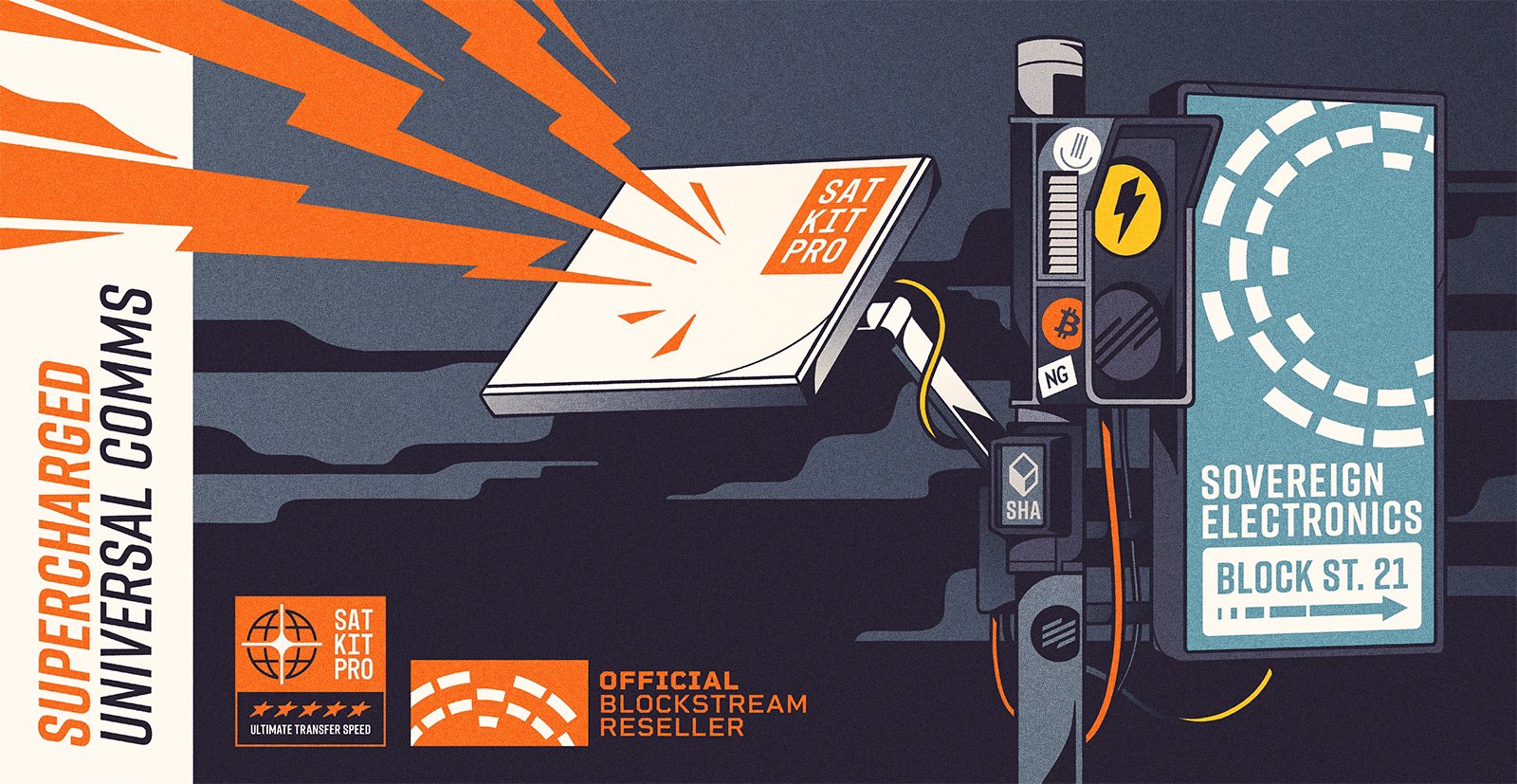 Join the Conversation
Subscribe below to have Blockstream Monthly delivered to your inbox each month. For further updates, follow us @Blockstream and join the conversation in our Green, Jade, Finance, and Satellite community Telegram channels.