Good key management lies at the heart of proper bitcoin custody and keeping your funds safe. This is why we have always been passionate about building better custody solutions, whether through creating feature-rich wallets like Green and Jade, contributing to open-source federated networks such as Fedimint and Liquid, or developing cutting-edge signature schemes like MuSig2 and ROAST.
Our new partnership with Swan, which helps bring collaborative custody to Bitcoin novices and veterans alike, continues this tradition. At the center of the initiative is Blockstream Jade, our entirely open-source hardware wallet, which will be the sole signing device featured in Swan Vault upon its debut.
The Swan Vault service ensures customers remain in full control of their bitcoin via a 2-of-3 multisig setup. The customer securely holds two keys offline with two Jade devices, with Swan having a third key to assist with recovery if needed. The service will also offer advanced custody features like reliable key backup options, collaborative vault systems, and multi-party spending permissions.
Jade Competitive Edge
Blockstream Jade was first released in January 2021 and has steadily garnered recognition within the Bitcoin space for its unique security model and features. For those unfamiliar, below is an incomplete list of some advantages of using Jade as your go-to hardware signing device.
Bitcoin only: Jade is aligned with Blockstream's core mission and does not support altcoins or other cryptocurrencies outside of Bitcoin and its second-layer protocols.


Versatile: easy to use but has optional features like QR Scan and duress pin for more advanced users; Jade is also multi-platform with no specific dedicated companion app necessary.


Fully open source: both Jade's hardware and software are fully open and reproducible for greater security. Review the GitHub repository here.


Affordable: Jade uses commodity hardware, making it one of the most accessible Bitcoin hardware wallets on the market. You can purchase two or three for the price of one of the competitors without giving up quality or security.


Protected from physical key extraction: Jade's three-pronged approach to key access via an encrypted blob, user-generated pin, and blind oracle makes physical key extraction from Jade alone unattainable.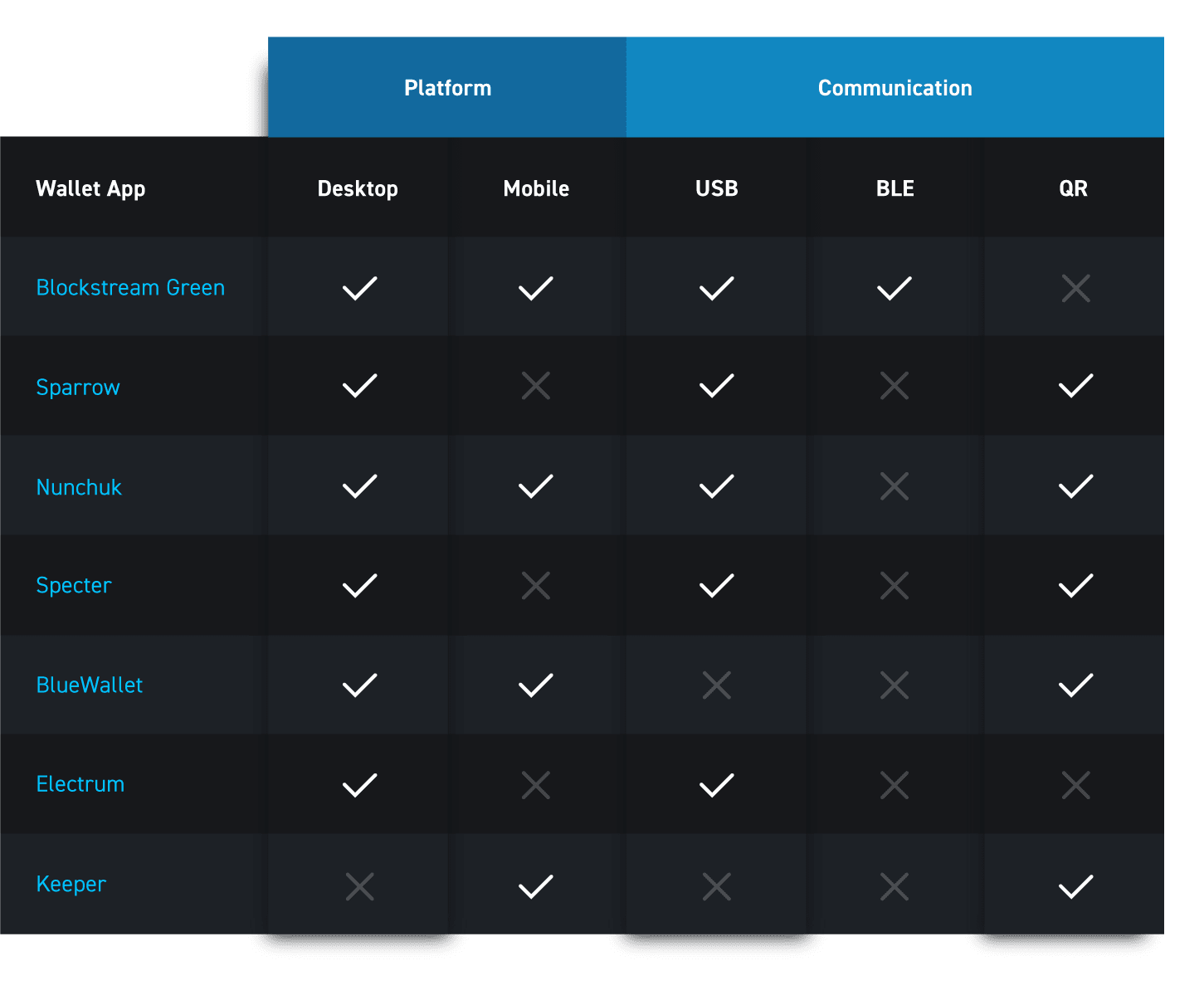 Jade User Experience

Following Jade's much-anticipated camera activation, the team has concentrated on rolling out software updates on a consistent basis for even greater functionality and an improved user experience.
Among the most popular has been support for BIP 85, which lets users generate independent wallets (each with its own seed) from a single master seed. This means that instead of having to manage and store a seed every time a new wallet is created, users can use their BIP 85 master seed to recreate any derived seed as needed. This greatly simplifies seed management, making it particularly useful when managing a myriad of different hot wallets on a phone or creating starter wallets for friends and family.

We also recently revamped the Jade user interface, giving users a completely new, more streamlined experience. We reworked each task and feature flow with a focus on improving navigation and readability. For example, the new SeedQR flow allows users to skip setting up a PIN entirely for quick stateless access. You can also scan a SeedQR during an active session to switch seeds fast for single-device multisig.

The recent series of upgrades have greatly enhanced Jade useability and security, establishing it as one of Bitcoin's premier hardware wallets. Yet, there is still so much more to come. We are in the final stages of introducing trustless trading through Jade-initiated Liquid swaps, incorporating support for Miniscript and Taproot, and launching a plug-in-play app to run your own blind oracle. We anticipate these to be released before the end of the year.
Jade Resources

For those wanting to purchase a Jade outside the Swan Vault program, it is available directly on the Blockstream store or through one of our many official resellers. The latter is a great option to save you on shipping costs and time.

For step-by-step guides and tutorials, we suggest bookmarking the Jade Help Center or subscribing to our YouTube channel. If you have additional questions or would like to connect with other Jade enthusiasts, join the Jade Telegram channel.