Tranche vijf zal beschikbaar zijn voor investeerders op STOKR vanaf maandag 18 oktober 2021 (10.00 uur CET).
Tranche vijf zal in totaal € 2.6 miljoen (~3 miljoen USD) bedragen en elke BMN1 zal worden aangeboden voor € 260.000 (~302.000 USD). Tranche vier was wederom flink populair en was in slechts vijftien minuten volledig weg.
Gezien de sterke vraag in tranche drie en vier, wordt tranche vijf opnieuw gelimiteerd tot één BMN1 per investeerder. In de toekomst bieden we zowel gelimiteerde als ongelimiteerde tranches aan.
Investeerders die al 1 BMN of meer hebben, kunnen via de BMN-beleggingspagina in aandelen vanaf 0,01 BMN deelnemen aan deze tranche. Investeerders die minder dan 1 BMN hebben, kunnen deelnemen aan deze tranche als hun investering in tranche vijf hun totale positie op 1 BMN of meer brengt.
Tranche vijf zal gelijk zijn aan eerdere BMN1-tranches en zal de totale uitgifte van BMN's op € 16.6 miljoen brengen (~19,3 miljoen USD).
De Blockstream Mining Note
De BMN biedt gekwalificeerde investeerders blootstelling aan bitcoin-mining via een security token op het Liquid-netwerk. Elke BMN1 geeft investeerders recht op maximaal 2000 TH/s aan bitcoin-hashrate die actief is in onze mining-faciliteiten van enterprise-niveau.
Sinds de lancering van de eerste BMN1-tranche op 7 april 2021 heeft de BMN in totaal bijna € 14 miljoen ($ 16,3 miljoen) opgehaald. Er zijn meer dan 60 BMN1 uitgegeven aan een breed scala aan zakelijke en individuele investeerders.
In de 101 dagen sinds we zijn begonnen, heeft elke BMN gemiddeld 0,01577 BTC per dag opgebracht, voor een totaal van 1,59 BTC. De mining-voortgang kan hier worden gevolgd.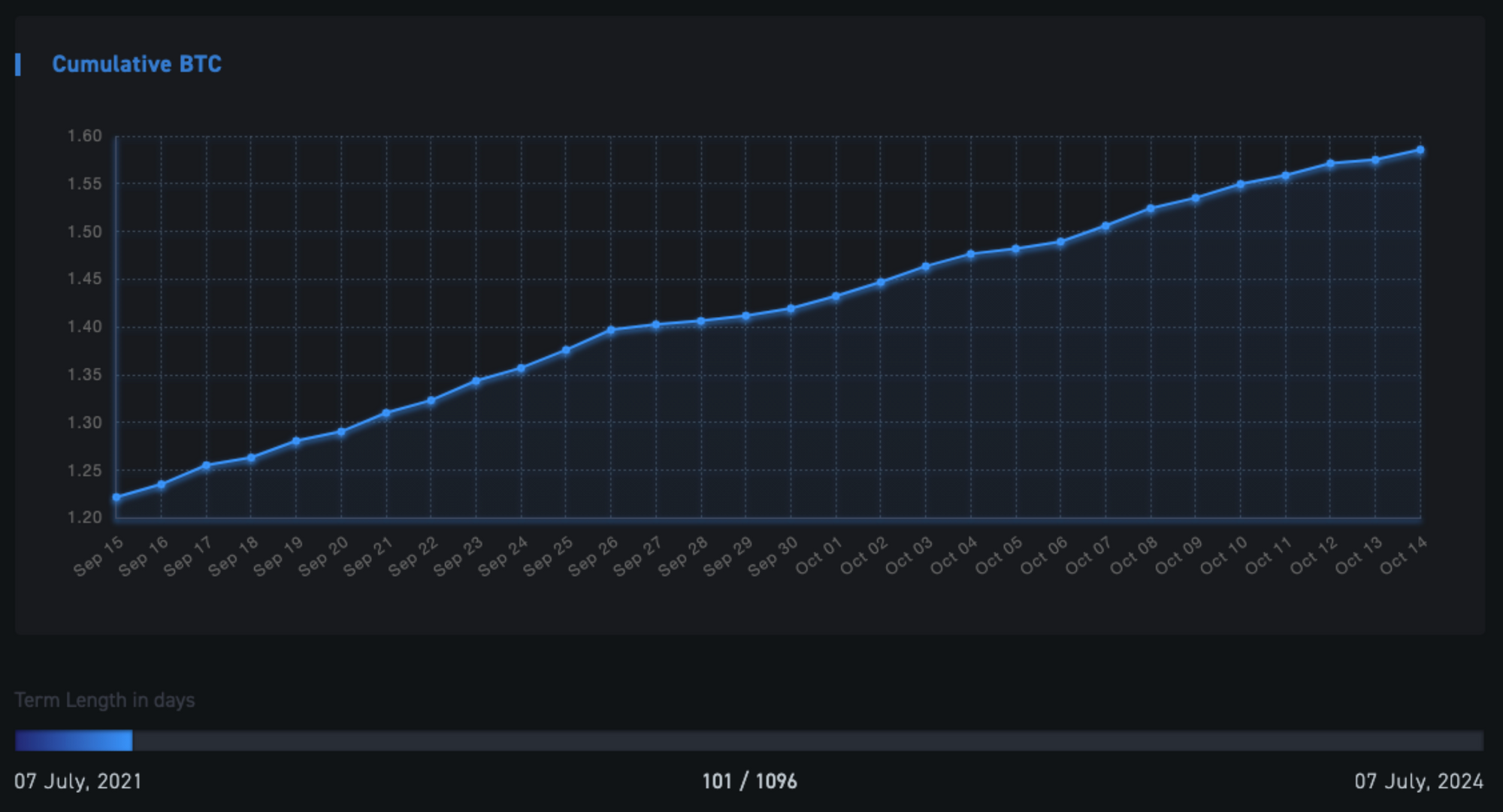 Binnenkort op Bitfinex Securities
We kijken uit naar de lancering van Bitfinex Securities Ltd, een gereguleerde nieuwe exchange voor security tokens (STO), en zijn trots te kunnen melden dat de BMN op schema ligt om beschikbaar te komen op Bitfinex Securities medio het 4e kwartaal van 2021, waardoor het een van de eerste assets is die op het platform verschijnt. De Bitfinex-tranche en verschijning verlopen volgens schema en we kijken ernaar uit om deze tranche de komende weken uit te voeren.
Kom meer te weten over de vijfde tranche op STOKR
De BMN is beschikbaar voor niet-Amerikaanse, kwalificerende investeerders. Bezoek STOKR voor meer informatie over de vijfde tranche.
Om deel te nemen aan de primaire uitgave via STOKR, moeten investeerders eerst het KYC-proces op hun site voltooien. Neem na voltooiing contact met ons op via de Blockstream Finance Telegram, dan kunnen wij controleren dat u met succes bent toegevoegd aan de BMN1-whitelist.