Tranche seven will be available to investors on STOKR, Friday, November 12, 2021 (10:00 AM CET).
Tranche seven will total €2,600,000 (~ $3,000,000). As with previous tranches, and in order to maintain fungibility with earlier issuances, we will buy bitcoin in the market equivalent to the amount mined to date. For this round, in excess of 1.95 BTC (~ €108,000, $125,000) will be purchased and added per BMN exactly matching the amount mined on the day of power up.
Given bitcoin price volatility, each BMN1 will be offered with a guide price range of €300,000 - €320,000 (~ $348,000 - $371,000) with exact pricing to be determined at the time of issuance.
Tranche six was the largest tranche issued to date at €13.9 million ($16.1 million) and drew interest from a wide range of individual and institutional investors.
Given the strong demand demonstrated in the previous tranches, tranche seven will again be capped at one BMN1 per investor. Going forward, we will offer both capped and uncapped tranches.
Investors that already hold >= 1 BMN can participate in this tranche in units as small as 0.01 BMN via the BMN investment page. Investors that hold <= 1 BMN can participate in this tranche if their investment in tranche seven will bring their total position to >= 1 BMN.
Tranche seven will be fungible with previous BMN1 tranches and will bring the total issuance of BMNs to almost €33.4 million (~ $39 million).
For more information on Blockstream Mining Notes, please contact jesse@blockstream.com.
The Blockstream Mining Note
The BMN provides qualifying investors exposure to bitcoin mining through a security token issued on the Liquid Network. Each BMN1 entitles investors to up to 2,000 TH/s of bitcoin mined at our enterprise-grade mining facilities.
In the 120 days since mining began, each BMN has averaged 0.01555 BTC per day for a total of 1.86 BTC. Mining progress can be tracked here.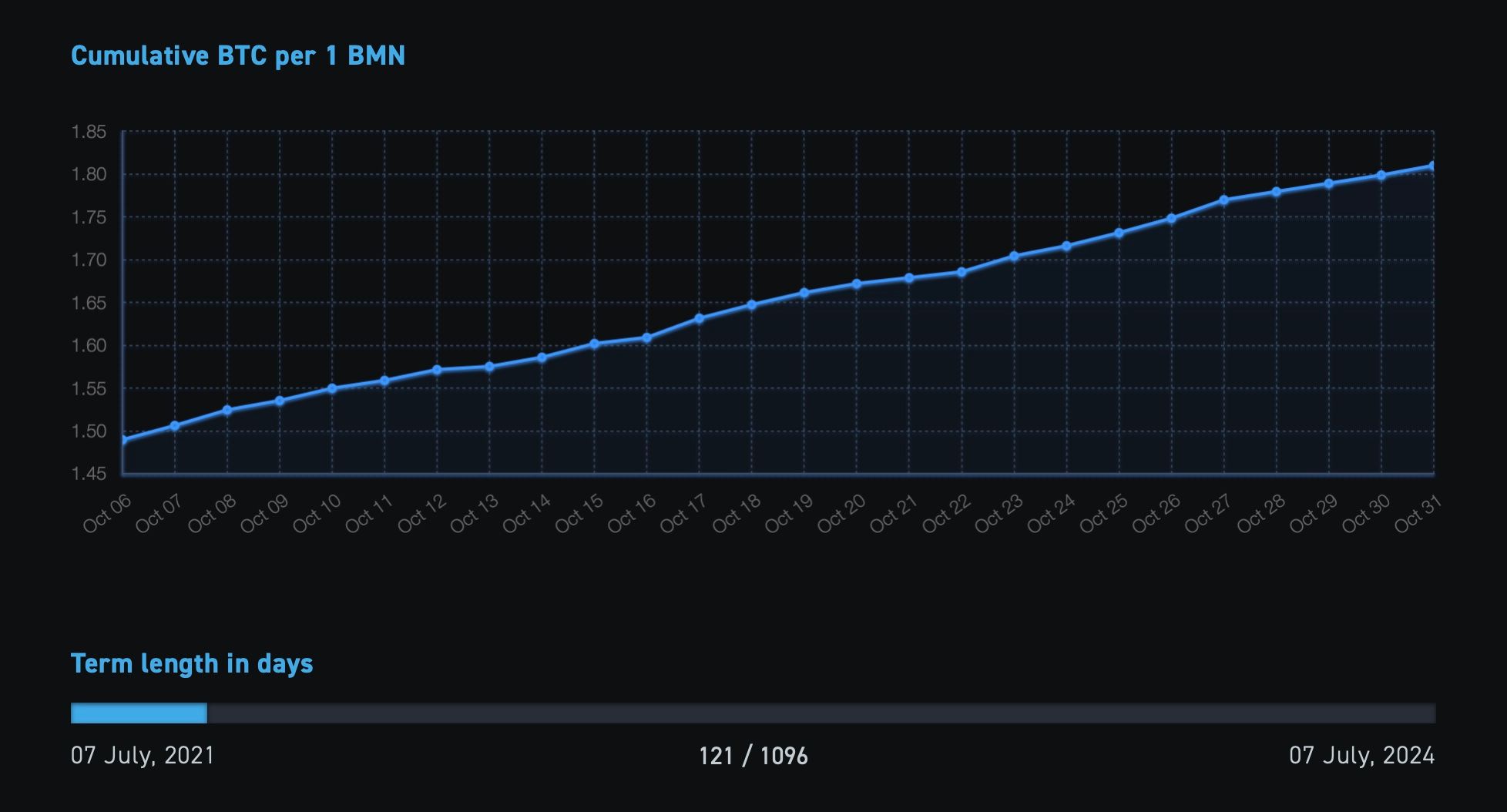 Coming Soon to Bitfinex Securities
We are also very excited to see the launch of Bitfinex Securities Ltd, a regulated new security token (STO) exchange that will list the BMN, making it one of the first assets on the platform.
The Bitfinex tranche and listing are progressing, and we expect a listing in the next months.
Get Familiar with the Seventh Tranche on STOKR
The BMN is available to non-US, qualifying investors. To learn more about future tranches, please visit STOKR.
In order to participate in the primary issuances on STOKR, investors must first complete the KYC process on their site. After completion, investors can reach out to us on the Blockstream Finance Telegram, and we can ensure you have been successfully added to the BMN1 whitelist.