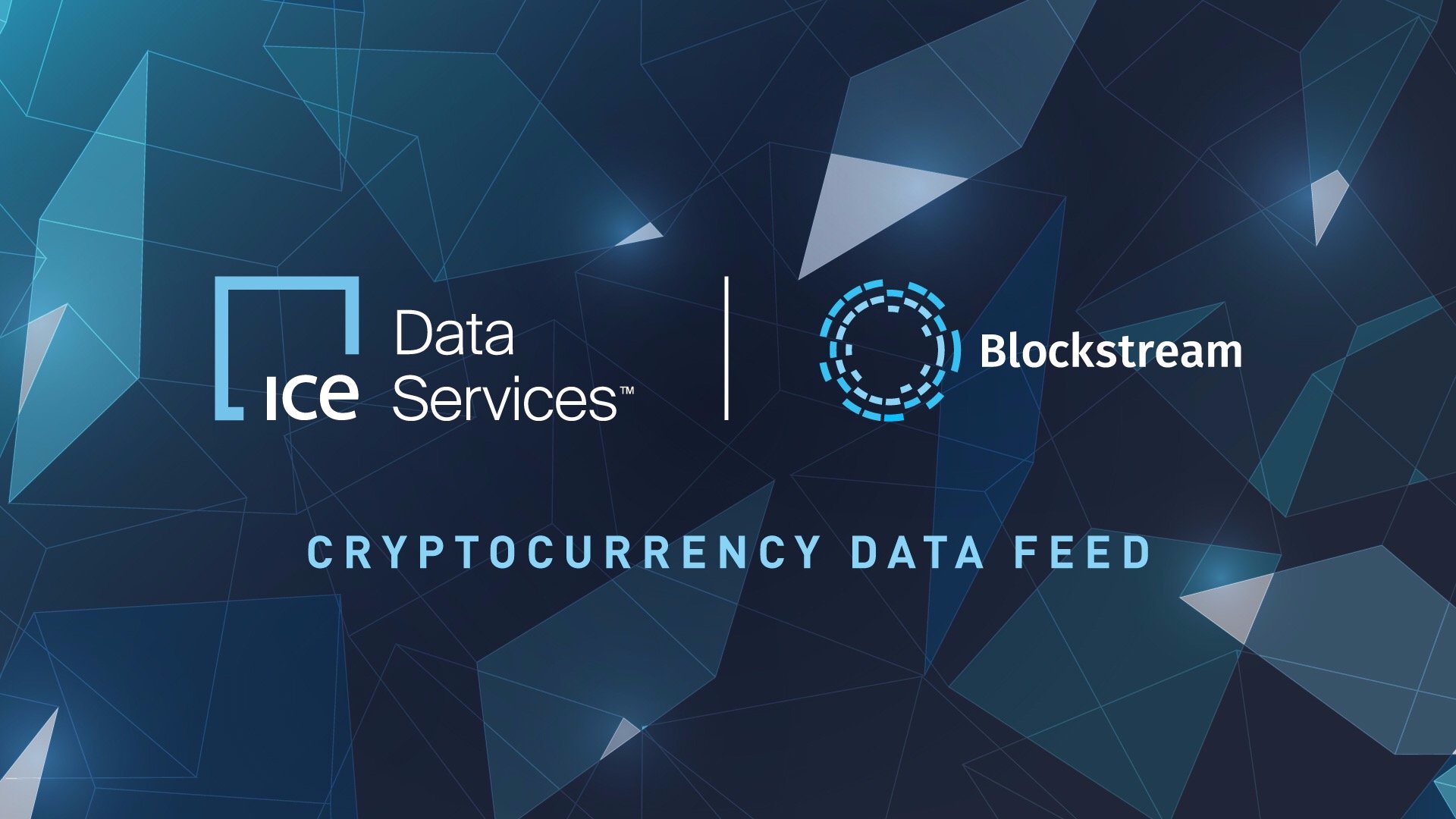 ICE's Cryptocurrency Data Feed to be powered by Blockstream and participating cryptocurrency exchanges around the world
We are excited to announce today a strategic agreement with the Intercontinental Exchange (ICE), a leading provider of data and listings services, and operator of clearing houses and global exchanges including the New York Stock Exchange. Together we are launching the Cryptocurrency Data Feed, to be distributed via ICE Data Services' Consolidated Feed. The new feed offers traders high quality, real-time cryptocurrency data from a strong and growing list of exchange partners globally with prices and order book data for bitcoin and several other cryptocurrencies.
The Cryptocurrency Data Feed is a multi-asset and multi-venue data feed that will cover the majority of cryptocurrency exchange trading volume for a broad range of cryptocurrencies against the U.S. Dollar and other major currency pairs. Blockstream works with cryptocurrency exchanges around the world and consolidates the disparate data sets into a normalized and standardized data source that includes real-time and historical trade information, as well as other relevant order book data such as quantities, prices, currencies, and timestamps.
There are more than fifteen exchanges currently participating in the feed, and discussions are underway with many more around the globe. Representing cryptocurrency trading in Asia, Europe, and North and South America, the feed will include data from Bitbank, Bitfinex, BitMEX, Bitso, Bitstamp, BtcBox, CEX, Coinfloor, Coincheck, ItBit, Gopax, OKEx, SurBTC, The Rock Trading, Unocoin, Vaultoro, Zaif, and others still in the works.
Blockstream advances the state of cryptocurrency through cutting-edge technology, standardization, and open, collaborative working relationships with exchanges around the world. Today's news builds on relationships we have established through our ongoing work with many of these companies participating in Blockstream's Liquid network. Liquid, the world's first federated sidechain, enables rapid, confidential, and secure bitcoin transfers for participating exchanges, businesses, and traders.
We welcome additional participation in this open initiative. If you are involved in an exchange and have an interest in taking part in the Cryptocurrency Data Feed, please contact us at cryptofeed@blockstream.com.