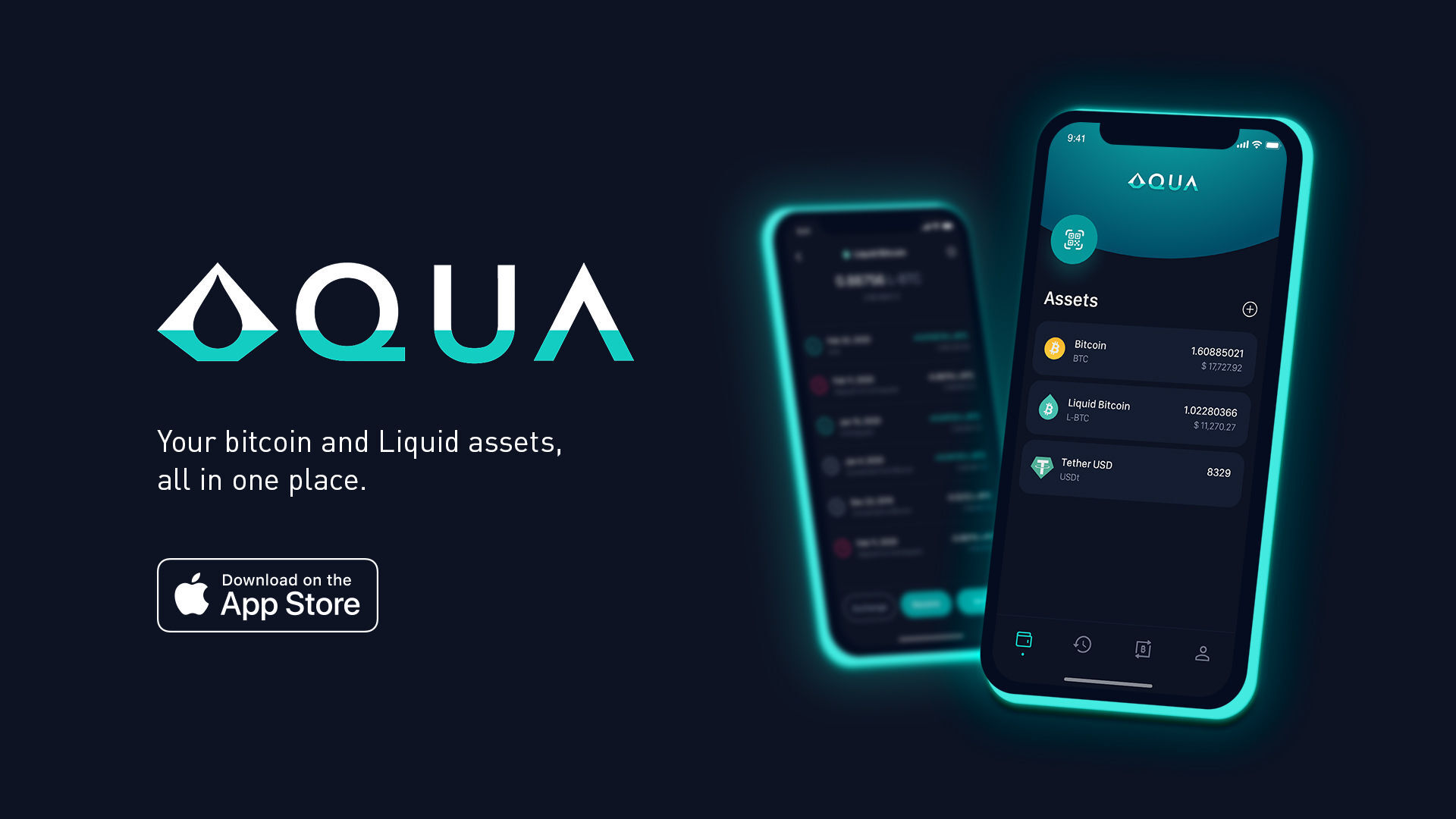 Using Bitcoin's leading sidechain is about to get a lot easier with today's release of AQUA, a simple iOS mobile wallet designed for the mass adoption of digital assets.
For the Next Wave of Bitcoin Adoption
AQUA is simply a non-custodial, singlesig wallet made for anyone to get quickly started with Bitcoin and Liquid.
From the scrolling home screen, AQUA gives you access to all of your Bitcoin, Liquid Bitcoin, Tether USDt, L-CAD, and other Liquid assets. Sending and receiving is made as smooth as possible, without any advanced features to get in the way. We've worked very hard to implement a streamlined and optimized UI to make everything flow effortlessly.
Users can also purchase bitcoin directly from within the app using debit cards or Apple Pay through our ongoing partnership with Wyre. We will be working with additional third parties to add more venues for buying Bitcoin or shifting Liquid assets in the coming months.
Fully Open Source
AQUA is built upon the years of fantastic work from the Blockstream Green team. The Green Development Kit (GDK) provided us with a secure, reliable foundation for the production of AQUA.
Like Blockstream Green, AQUA is fully open-source. We hope that Liquid Federation members who would like to offer a branded-wallet experience to their users will use the AQUA codebase for fast deployments.
The Future of Blockstream's Wallets
We will continue to develop Blockstream Green and AQUA in parallel, with Blockstream Green targeted at power users that want more control and privacy features like Tor, and AQUA catering to new or casual Bitcoin users that want to keep things as simple as possible. Blockstream Green supports all major operating systems, while AQUA will be mobile-only—launched for iOS today, with android to follow.
Some of the updates to GDK introduced with AQUA will also be making their way back to Blockstream Green. For instance, we'll be releasing much-requested singlesig wallets in the app soon, alongside the existing 2-of-2 and 2-of-3 multisig 2FA wallet options.
Get AQUA Now
You can download AQUA from the App Store now. For guides on how to obtain Liquid assets, such as Liquid Bitcoin and Liquid-based Tether, see our Help Center.