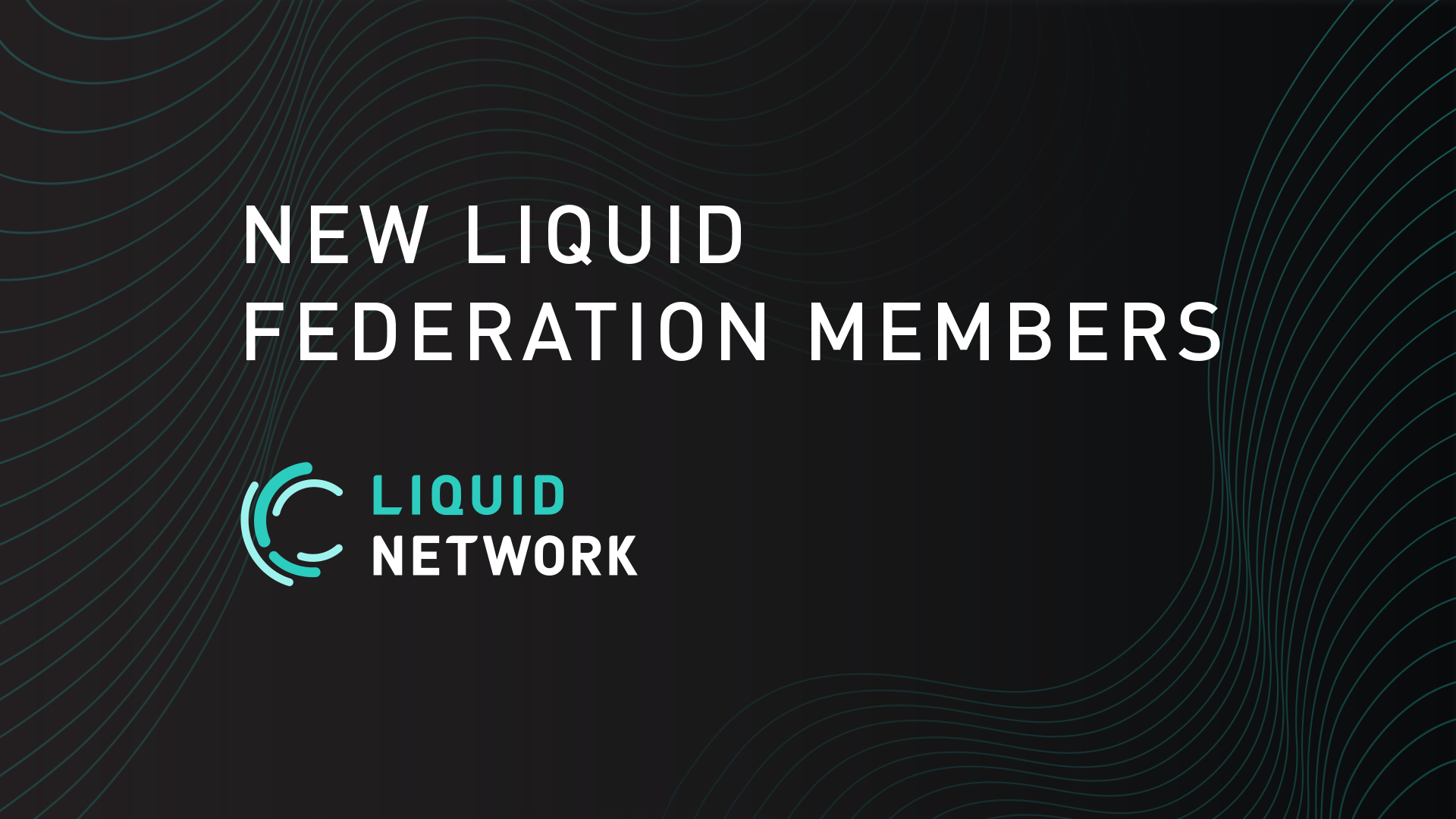 This week, the Liquid Network welcomed eight new members to the Liquid Federation: CoinShares, Condensat, INX, JST Capital, Paymium, Petrushev Capital, Sevenlabs, and Satoshis Games.
The new batch of members brings the Liquid Federation to a total of 53 members, which includes cryptocurrency exchanges, trading desks, infrastructure providers, and now even some Bitcoin gaming companies!
Expanding Decentralization
The new addition of members represents an accelerating interest in the industry's leading sidechain. At the time of writing, there are over 2,400 L-BTC and almost 500 registered assets on the Liquid Network (the latest notable issuances include SETTLENET's Japanese yen–backed JPYS token and Light Nite's variety of gaming assets).
As the federation grows, the security of the Liquid Network also improves—decision making over the development of the network becomes more distributed. Also, the upcoming Dynamic Federations (DynaFed) update will facilitate any of the members to fire up new functionaries that operate and secure the sidechain.
More Integrations
The addition of new members also means new integrations! Some platforms are already online, while others will be going online soon, providing Liquid users with more venues to manage and trade their L-BTC and other Liquid assets.
CoinShares
CoinShares are an industry OG and leading provider of institutional-grade investment products and services for digital asset investors. Among their many services, CoinShares pioneered Bitcoin-based Exchange Traded Products (ETPs), including Bitcoin Tracker One and BTC Tracker Euro.
Liquid Integration: Coinshares intends to use Liquid as transport rails for its digital asset trading between exchanges.
Condensat Technologies
Condensat Technologies is a provider of white-label asset management and core-banking infrastructure.
Liquid Integration: Condensat Technologies use Liquid as a currency and asset reserve system for custodian core banking software and as a verification system to allow easy and cheap auditability.
INX
INX is building a platform for the listing and trading of regulated security tokens and cryptocurrencies for institutional and retail investors.
Liquid Integration: INX plans to integrate Liquid Securities as a key part of its security token trading services.
JST Capital
JST provides a full suite of traditional financial services to institutions in the digital asset market, including trading, execution, structuring, investing, and risk management.
Liquid integration: JST Capital is using Liquid to trade OTC on Crypto Garage's SETTLENET platform.
Paymium
Paymium is one of the oldest cryptocurrency exchanges in the world based in Paris, France, providing trading and merchant services.
Liquid integration: Paymium is adding L-BTC support to allow for faster bitcoin deposits and withdrawals for their BTC-EUR traders.
Petrushev Capital
Petrushev Capital is an asset management advisory that specializes in the digital asset derivative and spot markets.
Liquid integration: Petrushev Capital is using Liquid for OTC trading, with a focus on smallcap European fiat market pairs.
Sevenlabs
SevenLabs develops cutting edge infrastructure for end-to-end, global, non-custodial exchange networks and provides services to enable crypto pioneers to interact with distributed ecosystems.
Liquid integration: Already live (open alpha). The Liquid-powered TDEX protocol provides a peer-to-peer network with an open interface for market makers to signal liquidity in different Liquid asset pairs. Traders on the platform are also provided a faster, non-­custodial, and anonymous way to exchange Liquid assets.
Satoshis Games
Satoshis Games develops games with Bitcoin-based rewards and assets (such as the upcoming Light Nite) and a publishing platform for new games interested in adding the same Bitcoin features.
Liquid integration: Already live! Satoshis Games uses Liquid to tokenize in-game skins, enabling players to withdraw and trade them with other players, as well as verify their scarcity.
Get Involved
If you'd like to get started trading on the Liquid Network, you can find a complete list of available Liquid integrations.
And if you'd like to become a member of the Liquid Federation, contact the federation's Membership Board through the official Liquid Network site.