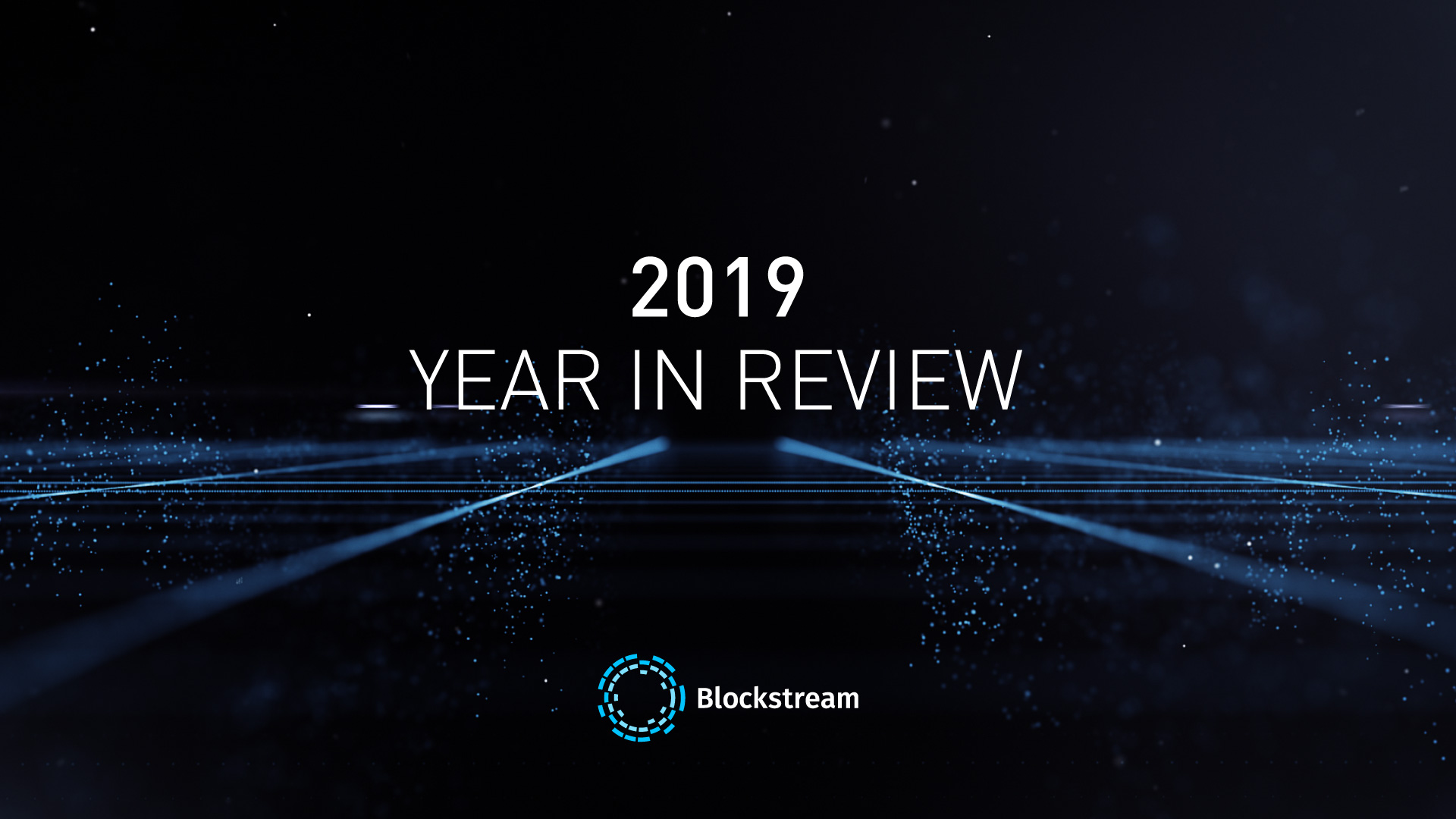 2019 was another busy year at Blockstream, with many exciting product releases, feature-packed updates, and some cutting-edge contributions to the Bitcoin and Lightning protocols. It's sometimes tough to keep up with all of our announcements, so below we've carefully put together a summary of our "Best Hits of 2019". Make sure you check out the video too!

Liquid Making Waves
Launched in late 2018, the Liquid Network has been growing fast, with multiple integrations going live, new federation members added, over 600 L-BTC pegged onto the network, and over $16m of Tether issued.
New Liquid Integrations
Over the course of the year, Bitfinex, BTSE, Coinut, and RenrenBit joined The Rock Trading and SideShift AI on a growing network of trading venues that support Liquid Bitcoin and Liquid-based USDt.
New Members Added to the Network
In May, we announced a raft of new members from around the world to the Liquid Federation, including Cobo, Coinut, DMM Bitcoin, Huobi, OpenNode, Paradox Fund, Poolin, Prycto, Sideshift AI, and Taotao. The latest list of members can be found at the new home of the Liquid Network on the web: Liquid.net.
Tether Launched on Liquid
In July, Tether began issuing their USDt token on Liquid, as an alternative to OMNI and Ethereum. The team at Tether are big proponents of Liquid as a long-term scalable solution for USDt, and we recently saw a big vote of confidence in the platform when $15m USDt was issued on the network.
"We believe Liquid will be one of the most used transport layers for Bitcoin and other assets, especially USDt, in the next wave of high trading activity."- Paul Ardoino, Bitfinex CTO
New Tools for Developers
Issuing assets on Liquid became easier with the announcement  of the Liquid Securities platform in May. Using Liquid Securities, businesses can quickly and easily issue highly-configurable security tokens on the Liquid Network. All-in-one security token issuance platforms such as Tokensoft and STOKR are currently building Liquid-based solutions on the new platform.
"We've been familiar with Blockstream Liquid since inception, we're excited that they are bringing a much needed robust and scalable blockchain solution to the digital securities landscape." - Mason Borda, Tokensoft CEO
In May, we launched the Liquid Asset Registry, providing a directory for issuers to add asset identifiers for new assets on the Liquid sidechain (for example, the Blockstream Green wallet uses the registry for its in-app asset labels).
The Blockstream Lightning team also implemented Liquid Network support in c-lightning to enable instantaneous micropayments with L-BTC. Lightning support for other Liquid assets is also on the roadmap.
Swapping assets on Liquid became more trust-minimized and confidential with the release of the open source Liquid Swap Tool. The project provides tools for developers to create trading applications such as trust-minimized OTC or even decentralised exchanges, where trades are automatically executed without non-payment risk or the need for custodial third-parties. Traders can also get started swapping assets like L-BTC and USDt using the tool's GUI now (requires a Liquid node).
Verifiable and Expressive Smart Contracts are Coming
In September, the first Simplicity transaction was completed on an experimental Elements release. We'll be producing a write up of the development on our Engineering Blog soon, and are working on introducing Simplicity to Liquid in the second half of 2020.
New Joint Venture
January saw the announcement of our joint venture in Japan, Crypto Garage, in collaboration with Japanese fintech industry heavyweights Digital Garage and Tokyo Tanshi.
In addition to its growing contributions to the Bitcoin ecosystem, Crypto Garage is building SETTLENET, a new institutional trading platform built on Liquid, and will soon be launching the stable coin "JPY Token," issued on Liquid.
Liquid Federation Boards Established
Representatives from the Liquid Federation met in Tokyo in September to discuss progress and coordinate the setup of a new Liquid governance structure. Three boards were established to direct membership, oversight, and technology on behalf of the federation. For more details, see Liquid.net's governance page.
Elements Continually Updated
The Liquid Network runs on Elements, which is based on the Bitcoin Core codebase. Our engineering team has been releasing a series of updates to keep Elements up-to-date with the latest developments on Bitcoin, while also introducing brand new features unique to Elements, such as Dynamic Federations and the Simplicity smart contracting language. Some highlights included:
May: Elements 0.17.0 - The latest Bitcoin Core updates synced
July: Elements 0.17.0.1 - Default network switched to Liquid
September: Elements 0.18.1 - PSBT and Dynamic Federations support
December: Elements 0.18.1.3 - Smoother startup and UI improvements
Blockstream Green Launched
GreenAddress Rebooted as Blockstream Green
It feels like so long ago, but we launched the redesigned and rebuilt Blockstream Green wallet app only in March last year. Since then, Blockstream Green has been iterating quickly and maintaining its reputation as a Bitcoin wallet at the forefront of the latest Bitcoin technology.
Green Adds Liquid Support
In June, Blockstream Green became the first mobile Bitcoin wallet to include support for a Bitcoin sidechain, the Liquid Network. The integration allows users to send and receive L-BTC, USDt, and other Liquid assets, while taking advantage of the same multisignature security and hardware wallet support they're familiar with.
Of course, Blockstream Green uses Confidential Transactions by default for all Liquid assets, making it a great solution for traders to protect their financial privacy!
Moar Hardware Wallets!
We've been busy adding more hardware wallet support for both Bitcoin and Liquid wallets on Blockstream Green. We now offer support for the Trezor One, Trezor Model T, Ledger Nano S, and Ledger Nano X on Android, and the Ledger Nano X on iOS. For the latest hardware wallet support list, see our new page on Blockstream Docs.
Cutting-Edge Wallet Tech
Throughout 2019 we continuously improved Blockstream Green with small feature updates and bug fixes, more localization (now available in 14 languages), and the addition of the sats unit (for users who are #stackingsats). We even added in-app Tor support for enhanced privacy, a first for iOS Bitcoin wallets.
Blockstream Mining Revealed
One of our biggest product releases to date, Blockstream Mining offers purpose-built facilities for mining hardware colocation. Companies that want to start mining Bitcoin, but don't want to deal with the overhead of building and maintaining purpose-built facilities, can simply install their miners at Blockstream Mining's facilities, where our expert team will ensure they are powered, optimised, and maintained.
With 300MW of power secured, Blockstream Mining is one of the largest providers of enterprise-class hosting in the world. Currently our service hosts hardware for clients including the Fidelity Center for Applied Technology and LinkedIn co-founder Reid Hoffman.
In addition to Blockstream Mining, we also unveiled Blockstream Pool; a next-generation mining pool based on the BetterHash mining protocol, which is designed to optimise miner payouts while improving Bitcoin mining decentralization.
Blockstream Satellite Enhanced & Expanded
Users Can Now Be Broadcasters Too
In January, we opened up our Blockstream Satellite service to developers and users, so that they could send their own messages over the satellite network. The Blockstream Satellite API provides developers with an easy-to-use RESTful API to submit messages for broadcast from space to the world.
The API is totally "data agnostic"—whether broadcasting secure messaging, alternative blockchains, or a global podcast, the Blockstream Satellite API supports it. Data usage is paid for using micropayments over the Lightning Network.
Non-developers can also beam their messages from space via our easy-to-use Transmissions page.
All Meshed Up
The mesh networking startup goTenna launched an integration with the Blockstream Satellite software in May, making the Blockstream Satellite service even more useful in offline environments. Through the open source txtenna software,  "satnodes" can be easily be connected to local mesh networks to verify incoming Bitcoin transactions, improving Bitcoin's resilience to potential internet disruptions. For a brief introduction to combining Blockstream Satellite with mesh networking, see our latest presentation on YouTube.
Pushing Bitcoin Forward
During 2019, the Blockstream research team continued to publish innovative research on the Bitcoin protocol which impacts nearly all aspects of Bitcoin: transaction privacy, node bandwidth consumption, provable Bitcoin reserves, hardware wallet usability, and transaction programmability. Some of our key contributions included:
A Shocking Number of Lightning Updates
Over the course of 2019, Blockstream's industrious Lightning team produced too many updates to list here, including contributions to the c-lightning implementation as well as the Lightning specification.
The Launch of Lightning Plugins
In March, the all-new plugins feature was released for c-lightning. Plugins keep the c-lightning implementation lightweight, while allowing developers to expand its functionality with new, sophisticated features written in their preferred language. For examples of what developers have been building with c-lightning plugins, check out our Plugins Series on the Engineering Blog.
Multi-Part Payments
Multi-part payments, released in December, bring us one step closer to this ideal of a unified wallet experience. Multi-part payments allow the sender to split a Lightning payment across an arbitrary number of channels and routes, combining liquidity in all those channels up to the desired amount. This greatly reduces the headache of managing how many channels to open, and how to allocate funds to them, since users can now simply combine them as and when necessary.
Other Highlights
Looking Ahead to Another Big Year
We're only a month into 2020 and Blockstream has already made a host of exciting announcements, including the launch of Liquid.net and BTCPay Server's Liquid integration. Looking ahead, we have more new product launches; updates to Liquid, Blockstream Green, Blockstream Mining, and Blockstream Satellite; and many more proposals in the works to make the Bitcoin protocol even better!
To keep up with the latest at Blockstream, make sure you sign up for our recently rebooted newsletter…
{% include newsletter.html %}