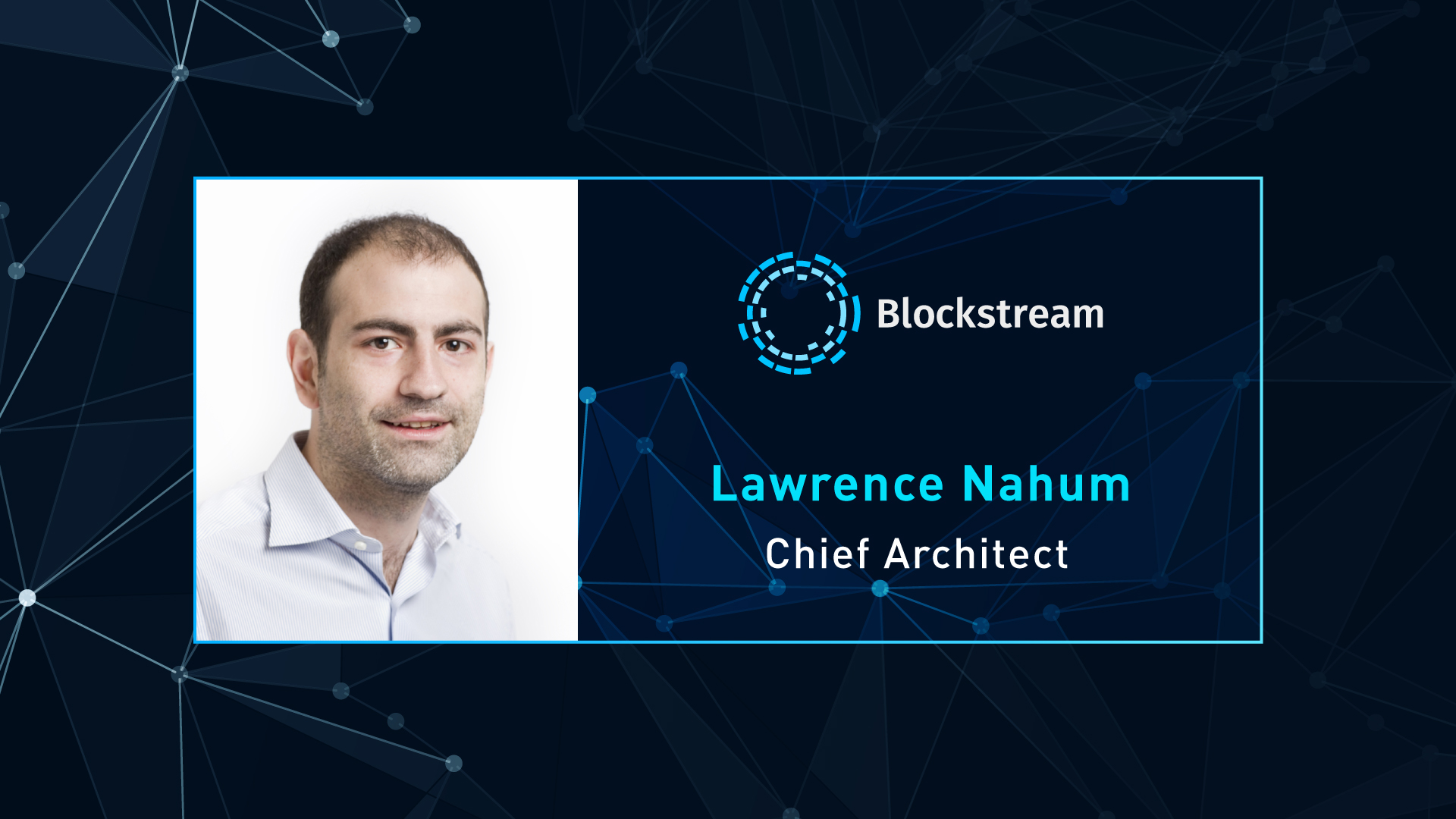 We are pleased to announce the appointment of Lawrence Nahum as Chief Architect. Lawrence has been with the Blockstream team since 2016 when we acquired GreenAddress. Lawrence and the GreenAddress development team have consistently set high standards in security, operational processes, and maintained a fast pace of innovation with multiple firsts for Bitcoin wallets.
Joining Blockstream
When Lawrence first started working on Bitcoin, he frequented the #bitcoin IRC channel, which he said is "one of the best places to collaborate with knowledgeable Bitcoiners." As part of the architecture and design process of GreenAddress in early 2013, he would bounce ideas off Dr. Pieter Wuille and Gregory Maxwell, and went on to complete the first GreenAddress prototype. GreenAddress would grow to become an industry leading Bitcoin wallet, as the first to deploy new innovations such as 2-of-2 multi-signature transactions, time-unlocking transactions with nLockTime, hardware wallet support, replace-by-fee, and Segregated Witness transactions.
After Blockstream was founded in 2014 to work on blockchain innovations with a focus on sidechain technology, our relationship with Lawrence deepened as he added GreenAddress support for new technology included in our Elements Alpha release, like Confidential Transactions. From then on, it was clear there was a shared ethos and affinity for this new technology named Bitcoin, and joining Blockstream was an obvious choice.
"I am very excited and honored to accept the Chief Architect role; especially in a company like Blockstream which to me is the ideal place to work on interesting and useful technology," said Lawrence. "I will continue to oversee our consumer products as well as some of our fast-growing enterprise products, as we bring our vision of trustless finance to the world."
The Future
As Chief Architect, Lawrence will be taking on a more prominent role at Blockstream to manage the company's engineering efforts across multiple product lines such as Liquid, Explorer, and associated libraries and tools.
Lawrence will also be continuing to work on improving the mobile and desktop GreenAddress apps to support new technology including:
Liquid Network
Lightning Network
CheckSequenceVerify
Schnorr signatures (once deployed)
MAST tech such as Taproot and Graftroot (once deployed)
Lawrence has contributed much to the Bitcoin ecosystem, and to Blockstream. He is extremely driven to bring innovation to users, and has proven himself to be an incredibly capable executive that can consistently deliver and operate security critical systems. We are fortunate to have his experience and vision on board as we move ahead.