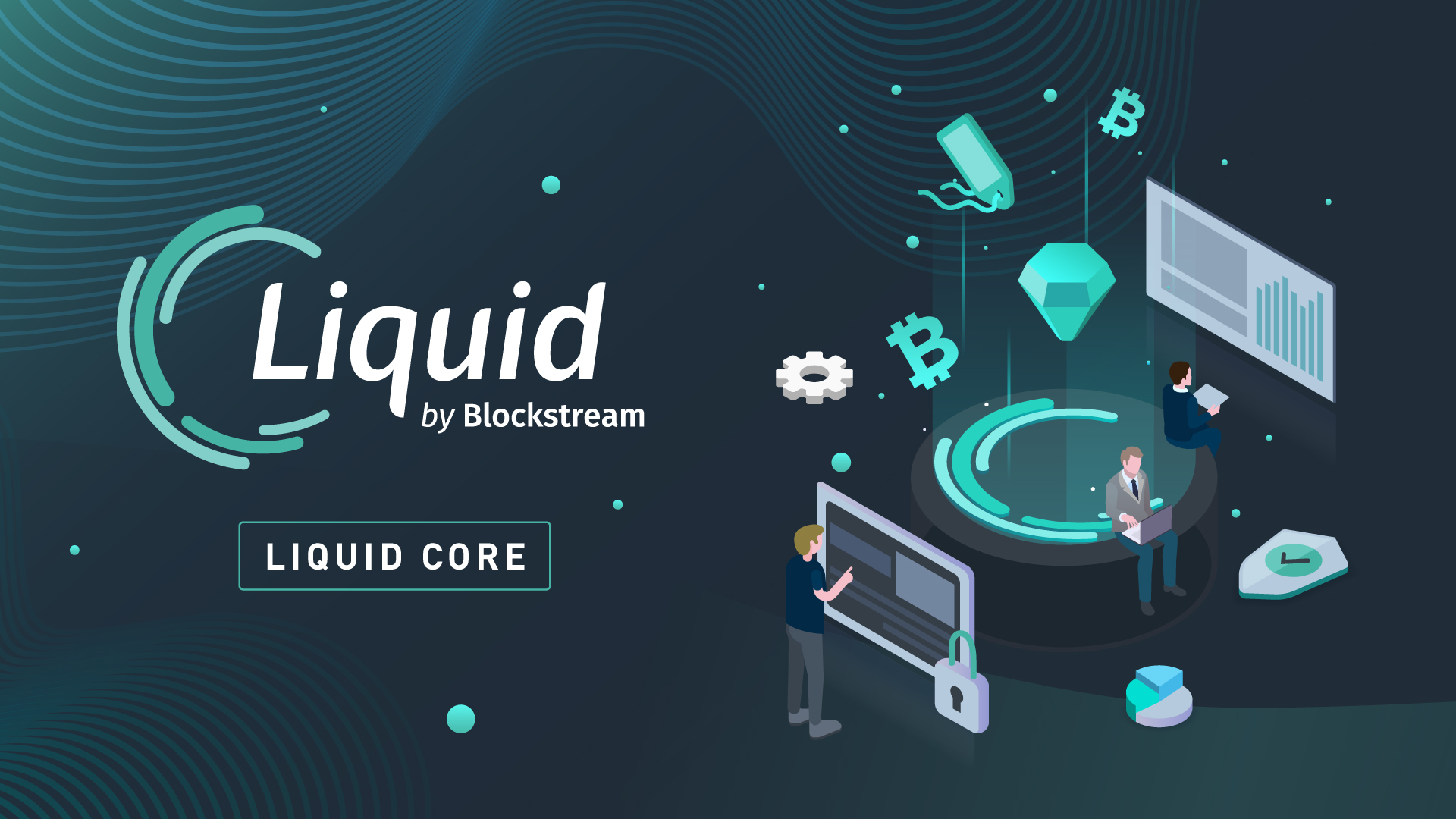 UPDATE: Liquid Core was recently deprecated in favor of Elements Core. Be sure to update your node software to Elements Core to keep track with the latest features and bug fixes. Learn how you can run an Elements Core node via our Help Center guide.
Oggi siamo lieti di rilasciare Liquid Core, un nuovo wallet desktop multipiattaforma per trasferire Liquid bitcoin (L-BTC). Basato sul codice sorgente di Bitcoin Core, Liquid Core fornisce ad utenti esperti un'interfaccia grafica alternativa alla riga di comando per l'utilizzo di liquidd and liquid-cli.
Un Ingresso per Transazioni Bitcoin Veloci & Private
Liquid Core offre ai trader gli strumenti per depositare e prelevare L-BTC dagli exchange che lo supportano, oltre a rendere possibili transazioni tra utenti senza bisogno di intermediari.
Quando L-BTC sono trasferiti su Liquid Network, il loro settlement avviene in due minuti, fornendo ai trader transazioni più veloci ed un uso del capitale più efficiente. Liquid Core ha Confidential Transaction abilitate di default, che nascondono a terze parti dettagli cruciali della transazione, come asset trasferiti ed importi. Questo fornisce garanzie sulla privacy molto più forti rispetto alle tipiche transazioni Bitcoin, inoltre riduce il rischio di rivelare informazioni commerciali riservate a concorrenti.
Introduzione a Liquid Core
Gli utenti familiari con il wallet di Bitcoin Core si sentiranno a casa con Liquid Core, che  rimane un'applicazione semplice abbastanza perché chiunque possa essere in grado di utilizzarla. Per cominciare a fare delle transazioni:
Assicurati che il tuo full node Bitcoin sia in esecuzione e configurato con server=1 (consulta la guida). Liquid Core è pensato per essere utilizzato in coppia Bitcoin Core.
Scarica ed installa Liquid Core.
Esegui Liquid Core.
Acquisisci dei L-BTC (da The Rock Trading oppure unisciti al canale di discussione per fare uno  swap con altri utenti).
Preleva L-BTC verso un indirizzo di ricezione in Liquid Core.
Sei pronto per iniziare.
Per istruzioni dettagliate su installazione e configurazione, consulta la guida di Liquid Core.
Utenti avanzati che sono interessati ad acquisire L-BTC potrebbero trovare utile la guida al pegin.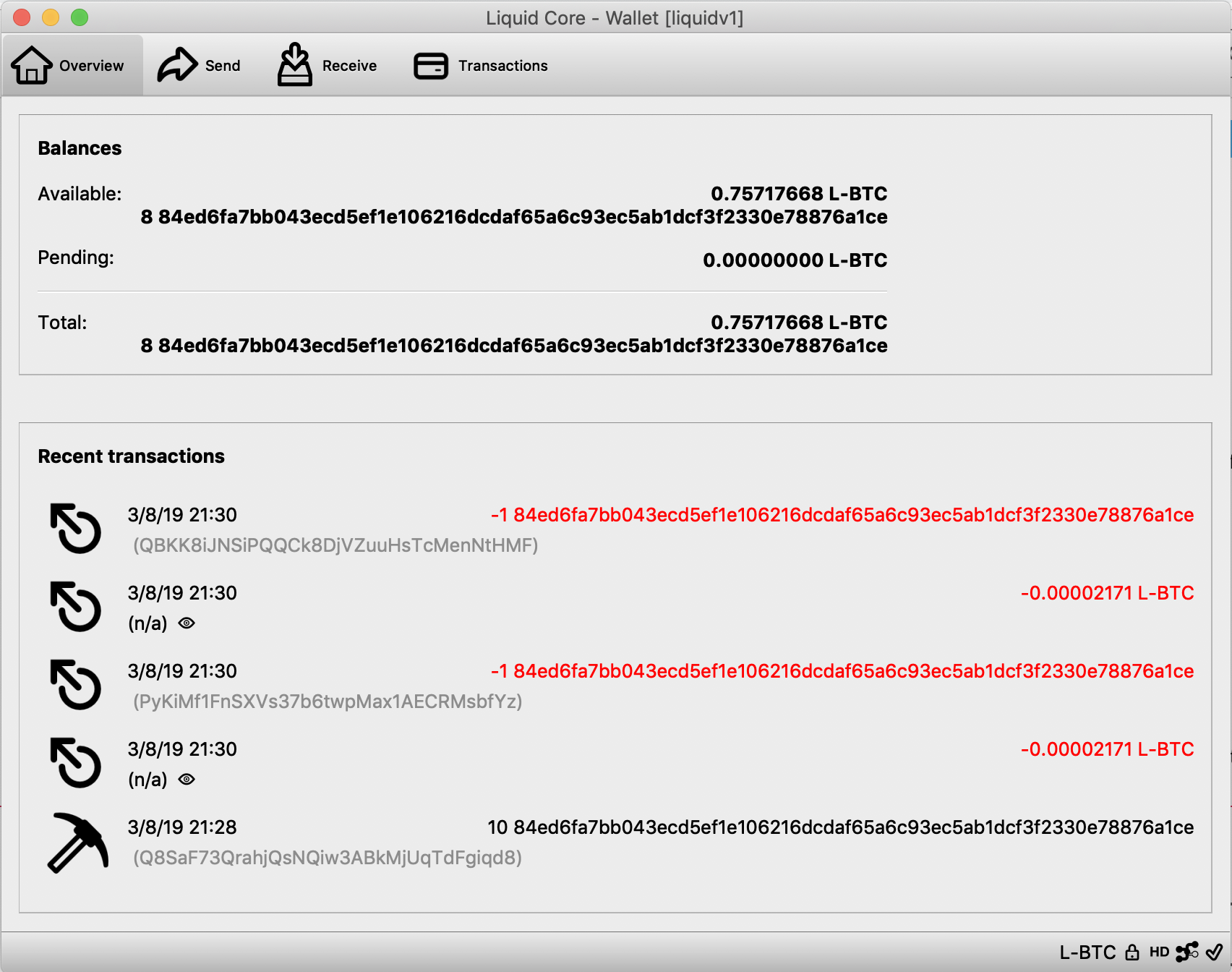 Supporto Iniziale ad Issued Asset
Utenti esperti ed aziende che stanno sperimentando Issued Asset di Liquid saranno felici di sapere che Liquid Core include supporto iniziale per Issued Asset–invia, ricevi e gestisci saldi di più Issued Asset, tutti dalla stessa interfaccia grafica.
Per iniziare a gestire Issued Asset, potresti voler acquisire confidenzialmente dei beer token dimostrativi e gratuiti da liquid.beer.
Con un minimo di confidenza con la riga di comando, l' emissione di nuovi asset può essere effettuata attraverso la console incorporata. Gli utenti dovrebbero tenere a mente che avranno bisogno di un piccolo ammontare in L-BTC per poter pagare l'emissione e le commissioni richieste dal Liquid Network.
Abbiamo in programma di rendere disponibili direttamente dall'interfaccia utente, sia i pegin che l'emissione di asset.
Lascia un feedback
Ci piacerebbe sentire le tue esperienze con Liquid Core, perciò assicurati di inviarci richieste per nuove feature e report di bug a support@blockstream.com, oppure lasciaci un messaggio sul nostro GitHub.
Se siete un exchange, una piattaforma di security token o un'azienda di trading, invia un'email a liquid@blockstream.com per capire come possiamo aiutarvi.